review by Simon Haines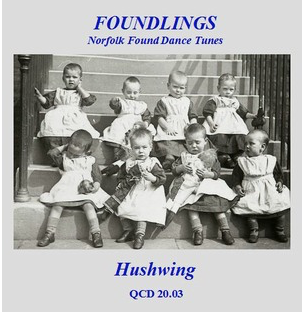 On first listening to this recording made by East Anglian musicians, it took me back to music I'd first heard and been thrilled by in the mid-1970s: The Old Swan Band's first recording: No Reels. Until that point I'd been a folk rock fan obsessed by the music of the Albion Dance Band, specifically the sophisticated drum and bass dominated The Prospect Before Us. That is still one of my favourite albums, but the appearance of No Reels sent me to music from older Topic label recordings: English Country Music (1965) and Country Music from East Anglia (1973). I felt that this was music that would have been played by the people of my grandparents' and great-grandparents' generation and I identified with it.
No surprise then that Foundlings (Norfolk Found Dance Tunes), a 21-track CD by Hushwing Village Big Band, brought back happy musical memories and at the same time introduced me to unfamiliar tunes. Although many of the tunes would have been played all over the country, Hushwing have chosen tunes originally played and recorded by Norfolk musicians Walter Bulwer, Harry Cox, Sam Larner, Billy Cooper, Stephen Poll, Herbert Smith, George Watson, Walter Pardon. A number tunes are attributed to "Gressenhall" and are taken from a suite written by Francis Cunningham Woods, a London musician who visited the Norfolk village of Gressenhall and reworked tunes he'd heard being played on the accordion (melodeon?) by an unnamed local millworker.