Review by Les Ray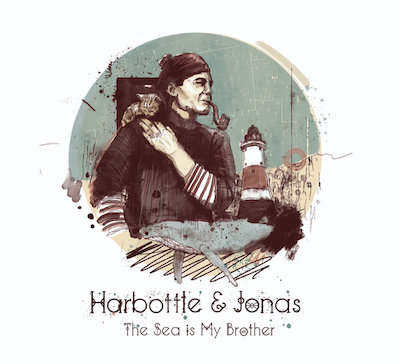 On my radio show "Strummers & Dreamers" I chose this sea-themed album as one of my favourites of 2019. The title of the album (and of one of its tracks) is taken from the name of a novel by Jack Kerouac. The album has delightful harmonies from the duo David Harbottle and Freya Jonas, along with lovely instrument arrangements for the songs, with the double bass, cello and violin particularly worthy of note.
As mentioned, this is very much an album of songs of the sea, more particularly, its heroes (A Lady Awake), victims (Lost to the Sea, Saved Alone) and both (Fr. Thomas Byles), in four of its standout tracks. My favourite song on the album is A Lady Awake, the story of the heroism of Grace Darling, the lighthouse keeper's daughter who rescued the survivors from the wrecked steamship Forfarshire in 1838, which to me brings to mind the music of Seth Lakeman. Lovely guitar work by Harbottle and upbeat melody line and vocals despite the dramatic theme in this traditional-style ballad.
Lost to the Sea is a moving song that tells the tragic story of the Chinese cockle-pickers killed in Morecambe Bay in 2004, which joins the equally fine song by Kevin Littlewood in honouring these poor victims of the unpredictable tides. Atmospheric harmonium by Jonas introduces Fr. Thomas Byles, a song about the Catholic priest on the Titanic who refused a lifeboat and stayed on board ship to absolve the doomed passengers of their sins. The final song on the album, Saved Alone, is another tragic story of shipwreck, about Anna Spafford, who in 1873 survived the shipwreck of the French passenger steamer Ville du Havre, but her four daughters were lost.
There are a couple of tracks on the album that lighten what would otherwise be a rather sombre mood, such as the traditional song The Saucy Sailor Boy, which is joyously up-tempo and has an exquisite (and unexpected) trumpet solo by Andy Tyner.
Songwriting credits are shared between the two, with four songs by Harbottle and three by Jonas (in which she takes the lead vocal).