From: Jan Robinson, on behalf of EATMT
Many of Mardles readers are members of East Anglian Traditional Music Trust (EATMT) but the team at EATMT are taking this opportunity to wish all Mardles' readers a very Merry Christmas and Healthy, and Happy 2024. We are all busy this Winter planning lots of repeat and new events for you to enjoy in the coming year.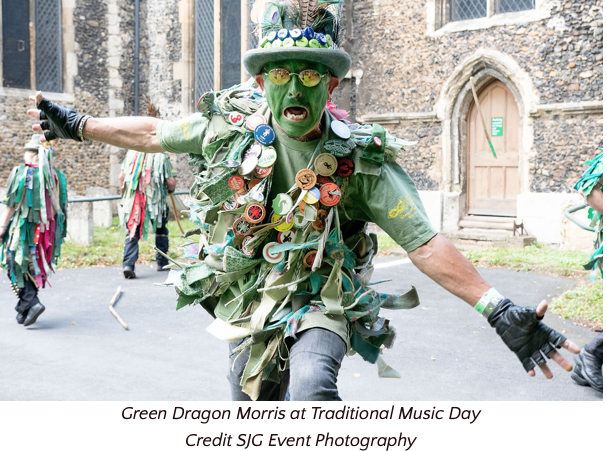 EATMT have achieved so much during 2023. Going back to 15th October 2022 we launched the Ralph Vaughan Williams project coinciding with the celebration of 150 years since his birth. The project was funded by the National Lottery Heritage Fund. A podcast released in February 2023 introduces us to 9 young musicians involved in this project. These musicians were able to give several performances of their own interpretations of some of his songs at Folk East and Stowmarket Traditional Music Day. Early in 2023 at the Boy Scout Hall in Stowmarket we held a day of lectures and music for those with an interest in the composer.
We offered two free afternoons of traditional music during the year, one in April at Yaxley Village Hall and another in October at Walsham Le Willows Memorial Hall. Both were packed with audience and performers and proved to be so successful we have already arranged a third such event for 24th March 2024 again to be held at Walsham Le Willows.
On 27th May we held our annual "Melodeons and More" day of workshops for musicians from beginners to advanced levels. There was also a Ralph Vaughan Williams song workshop. The day was brought to a jolly end with a concert performed by the tutors.
On July 2nd we supported Red Gables for the Stowmarket Food and Drink Festival. We set up our stall in the car park and some of EATMT's local musicians drew the public's attention with the playing of their catchy tunes.
Another huge success was the Step Dance Day held at Worlingworth on 16th July, and this year for the non-dancing participants we added a showcase and workshop for jig dolls.
At Folk East we also had a stall, and our Vaughan Williams young musicians not only put on a concert but also ran workshops. Ethan Beale who has step danced since he was very young hosted "stepping" workshops welcoming all ages and abilities to have a go.
The big event of the EATMT year was the Traditional Music Day held in Stowmarket on 2nd September. We had never taken on quite such a large project before. The Mayor of Stowmarket, together with our Chairman, Ivan Cutting and the other Trustees officially opened the Music Day festivities, which took place in venues around the centre of Stowmarket. Throughout the day there were talks, exhibitions, stalls, music sessions, stepping workshop, story telling and concerts.
We were thrilled at the amount of audience our 11 energetic and colourful Morris teams attracted. After dancing at various venues during the day, with tired legs but still filled with enthusiasm all the Morris teams performed a final dance in the Market Square and Milkmaid Molly from Bury St Edmunds invited the audience to join in a huge Circassian Circle dance and of course we ended the dancing day with Bonny Green Garters.
We are already looking forward to an even better repeat of this event on 21st September 2024.
If you would like to learn more about the Trust please go to our website where we have a host of information, such as newsletters, archives, items for sale and hire, podcast films and audios, and of course our upcoming events. Or, maybe you would like to get involved with the Trust by becoming a volunteer. Our website: www.eatmt.org.uk, email: This email address is being protected from spambots. You need JavaScript enabled to view it.. Our office is in Red Gables, Ipswich Road, Stowmarket. We are a charity no. 1082774.