HANNAH SCOTT - CANOPY THEATRE, BECCLES
SATURDAY 28th JANUARY 2023 7.30 p.m.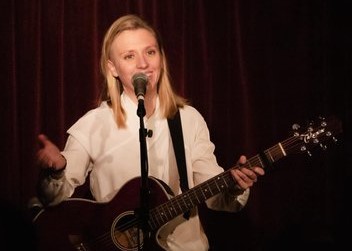 Recently shortlisted for FATEA's "Female Artist of the Year" Award, Singer/Songwriter Hannah Scott will be making a welcome return home to her Suffolk roots in January 2023 with a gig at the Canopy Theatre in Beccles.
Her work has been supported by Bob Harris and Dermot O'Leary on BBC Radio 2 and Tom Robinson on BBC 6 and has been featured in the hit TV series Grey's Anatomy. She has also been featured by MOJO magazine and in The Guardian. As well as headlining her own shows Hannah has opened for many artists including Seth Lakeman, Cara Dillon, Madeline Peyroux and 10cc.

Her most recent albums, "Pieces Of The Night" (2018) and "Drawn To Darkness" (2021) feature honest, meticulously crafted, songs about the human condition and were both critically well-received.
The FATEA recognition is well deserved and long overdue for one of the UK's finest lyricists (with perfect melodies to match); she is also an excellent performer, singer and musician and all these elements come together so brilliantly.