Review by Les Ray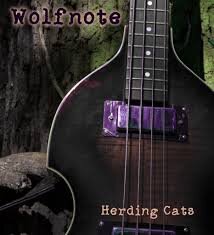 "Herding Cats" is the debut album by Berkshire-based quintet Wolfnote. The band comprises four women (Gill McCoy, Bex Rennie, Ceri Rushent and Ann-Marie Thomas) and one man, Mike Tuffery, the elder statesman of the band, so to speak. They are highly versatile, as they all sing, all play a stringed instrument of some sort, they have two recorder players (Bex and Ceri) and two percussionists (Mike and Ann-Marie).
The intriguing title of the CD refers to what the band describe as "the horrendous task of trying to get five people together in one place to rehearse (or in fact do anything) outside their day jobs...". And I don't suppose that's getting any easier now, since the CD was recorded before the first lockdown.
However, if getting together was as hard as herding cats, working together would seem to have been a much smoother experience, as this is a highly accomplished and eclectic first album, with great songwriting, singing and musicianship. All of the band members contribute their songwriting skills to the album, and this gives each song a distinct flavour, yet the band still very much have their own overall sound.