Review Holly Johnston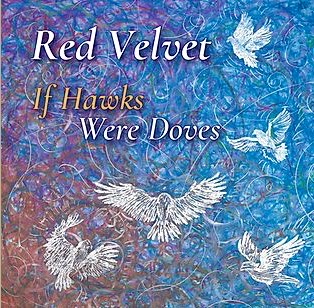 On listening to this 6-track Ep from the Cambridge-based band Red Velvet, I felt with each track that I was being taken back to another time of sepia colours and pork pie hats. The CD begins with the title track If Hawks Were Doves where I could imagine myself sat in an old time, honky-tonk bar drinking in the atmosphere. In some ways this song would fit well as the theme tune to a 70s comedy show, the words paint a story and the blues piano break in the middle fits perfectly.
The second track is Imposter, which speaks of imposter syndrome and contains what Red Velvet describe as their first ever rap. To me it was a bit more like spoken word, maybe because of the solid English accent that makes me think a bit of Dick Van Dyke in Mary Poppins and I say that with affection. There's some nice alliteration in the lyrics: 'luckiest loser' and the track showcases some really fluent piano flourishes.