Review by George Monger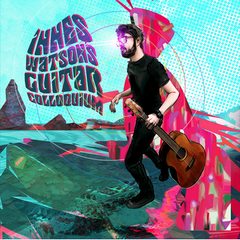 It was with some trepidation that I played this CD not knowing Innes Watson's work let alone his guitarcolloquium project. I was concerned that I wouldn't like it and I hate being negative about an artist's work. However, I need not have been concerned, from the very start the collaboration of Glasgow based musicians, led by Innes Watson, sound very tight; the quality, style and performance of the music is, to me, characteristic of musical collaborations I have heard in Scotland
The fourteen tracks are all original with all but two written by Innes; several have definite roots in traditional music but with a completely contemporary feel and attack.
The largely solo track Mando Endo shows off Innes' sensitive solo playing but I loved the way he is joined towards the end of the track by Barry Reid using the electric guitar to provide a background sound-scape and the way the track seamlessly segues into an upbeat ensemble track Udon Noodle. Several of the tracks merge one to another contrasting tempos and feel but going together really well.
The Album is well put together with some surprises and quirky music but there is too a wonderful sense of fun and joy in the playing exemplified in the last track Glasgow Guitar Colloquium.
I'm not sure if this would be filed under folk music but I loved this album from the first few notes right to the end.