Review by George Monger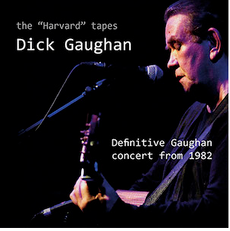 Dick Gaughan has been off the road for the last three or so years after an MRI scan in October 2016 showed that he had suffered a stroke several months earlier. Recently tapes of a Dick Gaughan in concert in Cambridge Massachusetts in 1982 have come to light. Hearing the tapes Ian Green and Ian McCalman of Greentrax Records, Edinburgh agreed that they were vintage Gaughan performances and decided to release the recordings on CD to help raise money to support Dick in his recovery.
And what a great CD it is, it is indeed Dick on top form with a great setlist, beginning with Erin Go Bragh and finishing with a unique performance of Hamish Henderson's classic The Freedom Come All Ye with fiddle accompaniment form the late great Johnny Cunningham – the first and, as far as I know, only time they shared a stage, making this a truly unique album.
The album is rounded off with two tracks recorded at Milingavie Folk Club in 2010/12 and a final track from the Greentrax archives.
Although recorded 37 years ago the tracks sound fresh and are a reminder of the characteristic passion and humour that Dick brought to any performance and still in evidence when he played at the John Peel Centre a few years ago, before news of his illness. Indeed the recordings from Milingavie Folk Club are proof that a Gaughan performance suffered no deterioration over the 28/30 years between the recordings.
This album is a great and fitting tribute to a unique and great man and if you've ever appreciated his work then buy the album to help support Dick and his family at this difficult time for them.
Greentrax Recordings CDTRAX406