Article by Dawn Wakefield with contributions from Finn Collinson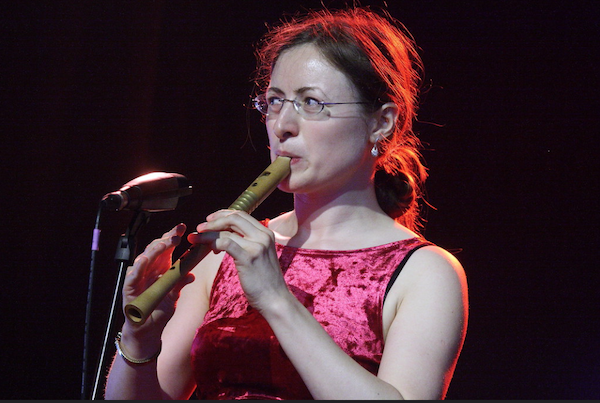 Emily AskewThis article was originally written for the Recorder Magazine which is distributed nationally to members of the Society of Recorder Players (SRP) and also members of The European Recorder Teachers Association (ERTA). As a member of ERTA, I wrote this as an invitation to teachers and students to explore more folk music. Adapting it slightly for Mardles, I realise you are already fans of folk music, but you may need some encouraging to appreciate the recorder! It often has a bad press because of people's memories of beginner primary school classes on mass descant recorders, often with inexperienced teachers. However do read on as there is much more to the recorder than that! For a start there are different sizes and shapes of recorder: sopranino, descant, treble, tenor and bass, all with their individual beautiful sound qualities and in experienced hands they do sound good. Although this article focuses a lot on printed material, learning tunes by ear is more traditional and is still very much an option, one that was not always made clear in school muisc lessons in the past. Personally though, I find the ability to read music opens up such a wide range of material that I can learn independently, so I would recommend it as a skill, but others I know work more easily by ear. The main thing is to enjoy music and play whatever attracts you.
Whether you are learning 'just for fun' or looking for plenty of varied good tunes in between grade exams, folk music both from the British Isles and further afield provides a rich and rewarding source of varied music. I personally have been both a 'classical' and a folk player for many years. I run a monthly folk session in a local pub here in North Norfolk and attend others in the area; I have many happy memories of playing for dance while fronting a ceilidh band on descant recorder, and also playing with various informal groups for Balkan folk dancing.
Folk music sessions are a great way to encourage even quite elementary level players to brave performing to others in a very supportive atmosphere, with a wide age range. Many of the regulars are retired and share a lifetime of music knowledge, whereas my own local session has a healthy number of younger participants too, including some school age players in half terms and holidays. Also due to my influence it attracts more recorder players than most, including my friend Nita who often plays bass solos, or we duet on treble and bass.
Searching online is the best way to find your local folk sessions. Here in East Anglia the Mardles website www.mardles.org.uk is an excellent resource for all things folk. Mikehardingfolkshow.com has a searchable national list and there is a plethora of other listing sites, some more up to date than others – so best to check details before travelling anywhere. Nationally The English Folk Dance & Song Society www.efdss.org is good for information on folk workshops. Obviously at the time of writing due to the Covid-19 situation many sessions and clubs are not currently meeting but some have an online presence, and if you research now, you can join in when normality returns. In the meantime you can get practising!


SHEET MUSIC
So here now are a few tips of good books I regularly use in teaching and performing: many of these are not specifically recorder books, so they can easily be used to play with friends on flute, violin or other instruments. The catchy lively tunes are great for a showy fast finger workout and the slower expressive melodies, ideal for development of tone and phrasing.
Easy Peasy Tunes from Mally Productions, run by musician Dave Mallinson, is a great starting point: packed full of 101 appealing tunes, using only 14 notes, it is divided into sections such as 'Absolute Doddle', or 'Piece of Cake' with amusing cartoon illustrations to match and gradually increases in difficulty through the book. Take a look at www.mallyproductions.com to treat yourself from a wide range of titles such as Popular English Session Tunes, 100 Vital Irish Session Tunes, 100 Essential Scottish Ceilidh Tunes, Pauline Cato's Northumbrian Choice. All are well produced on good quality paper, clear print, attractive covers, with added chord symbols and most have CDs available too.
My pupils and I particularly like the two volumes of Nick Barber's English Choice because, as well as containing an excellent selection of tunes, they have accompanying concise, well-researched background information and photos relating to their origins in various regions of the country across the centuries.
Once you are searching for a particular tune, that you wish to learn, the internet is obviously a good place to look, but these books are a real treasure trove and make a very good starting (and continuing!) point.
Andrew Robinson's Traditional Irish Music selected for descant recorder, published by Dolce Edition is sadly now out of print, but if you can find a secondhand copy I would highly recommend it. However his Traditional Irish Music for Treble Recorder published by Peacock Press is still a best seller, and features in the ABRSM syllabus C list pieces in grades 1 – 5. Both books contain some useful advice on ornamentation and performance.
For those who like me, have a taste for a more international outlook, I could also highly recommend The Balkan Dance Book available from eliznik.org.uk . This is packed full of amazing tunes from Macedonia, Bulgaria, Roumania, Armenia and more – 183 in total! Nik and Liz, the researchers and compilers, who like me are also Balkan dance teachers, have kindly agreed to us printing two of my favourites - Odeno Oro and Sedi Donka in the amazing time signature of 25/16! Many of the tunes in this book are (for us) in unusual time signatures such as 7/8, 9/8 or 11/8; however they are very approachable and enjoyable, especially if you listen to some authentic performances to get the feel of these great dance rhythms. Or if extra keen, check out one of the many Balkan dance groups in the UK via The Society for International Folk Dance.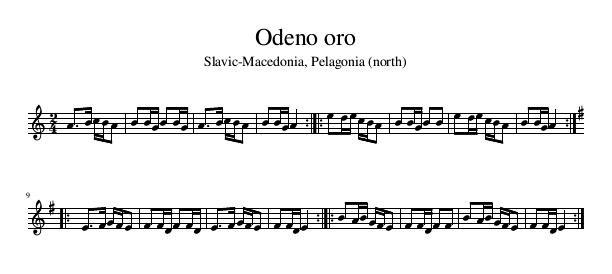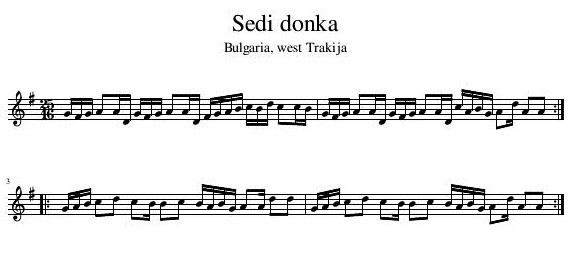 Hellas! Folk songs and dances from Greece ed. Sylvia Corinna Rosin (Breitkopf) is a real gem of a book. Beautifully illustrated in colour, with decorations on every page, it contains duets for descant with treble or tenor recorder, well presented with chord symbols added and interesting background notes on all the tunes provided by Irmhild Beutler. Also worth a mention is Aus der Klez-Dose by Philipp Tenta (Doblinger) – 6 pieces based on Jewish folk songs for treble and piano and Encyclopedia Blowzabellica which contains a comprehensive collection of tunes from the popular band - Blowzabella.
Finn recommends a couple more books – "neither of which are specifically transcribed for recorder but almost all the tunes will work:
And finally and briefly a selection for ensembles: 4 Greek Dances (SATB) arr. Paul Clark, his Irish Suite (SATTB) and The Highway to Dublin (SAATB) as well as Philip Thorby's An Irish Suite (SATB) are all hugely enjoyable performance pieces for those who would love to bring some folk inspiration into their groups. These have all proved very popular in my own adult recorder ensemble Toot Suite. Available from Recorder Music Mail www.recordermail.co.uk
PERFORMANCE
If you would like to listen to recorder performers thriving on folk music try rising star Finn Collinson's recent CD Call to Mind. Already heralded by The Recorder Magazine as 'a folk recorder pioneer', he has rapidly been gaining a reputation as one of the foremost exponents of the recorder on the English folk scene. Find out lots more at www.finncollinson.com including information on his educational work through workshops and private tuition. His success represents an inspiring and clear message that playing folk on recorders can reach out to the wider world.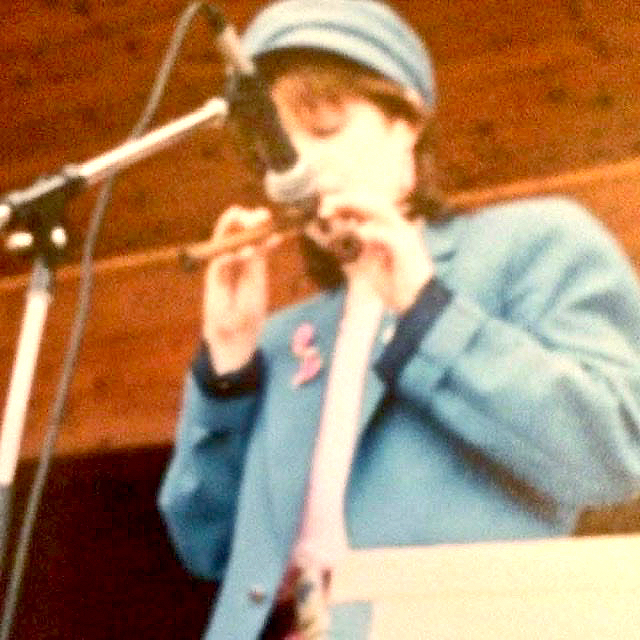 I currently know of only two recorder players who feature prominently in East Anglian ceilidh bands. One is Val Woollard in the Suffolk-based Hosepipe Band, who have made six recordings, all still available from their website www.hosepipeband.co.uk The tune Sloti Sloti from the band's second album Landslide, illustrates Val's playing to great effect.
Sloti Sloti - Val Woollard & The Hosepipe Band (composed by Geoff Coombs)

Here are some more of Val playing different recorders. On Mona's Delight with the band Bass Instincts she plays the garkleinflötlein to start with and on the last time through the tune she adds a descant recorder - playing both at the same time. (See right.)
Mona's Delight - Val Wollard and Bass Instincts (Trad.)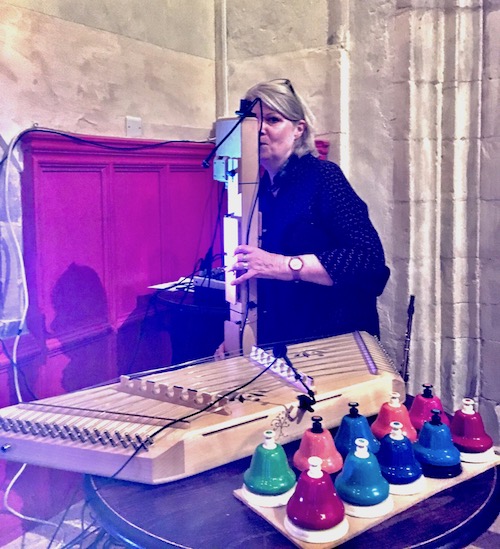 And here Val is playing her Paetzold Great Bass Recorder on Brother Edmund, a tune she composed for The Green Children in which The Hosepipe Band accompanies some poems by Martin Newell. (See right)

Brother Edmund - Val Woollard and the Hosepipe Band with Martin Newell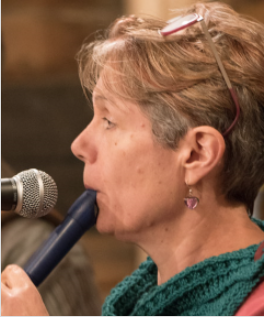 The other recorder player is Sarah Holmes who plays in the Suffolk band Skylarking.
Sarah has written about her experience of playing the folk recorder - see below. Here is Sarah, with the band:


A Spanish Muniera / The Abbot's Bromley Horn Dance.

There may well be more recorder players in bands. Please let us know and send us samples!
Back on the Balkan theme, multitalented Christiane Guenther of the band Klezmerized! whilst usually to be found on clarinet or vocals, chooses descant recorder for the Yiddish folk tune Behusher Khusid and the Bulgarian dance tune Granka on their first CD, and sopranino for the Turkish melody Uskudar on their second CD. Details available on their website www.klezmerized.moonfruit.co.uk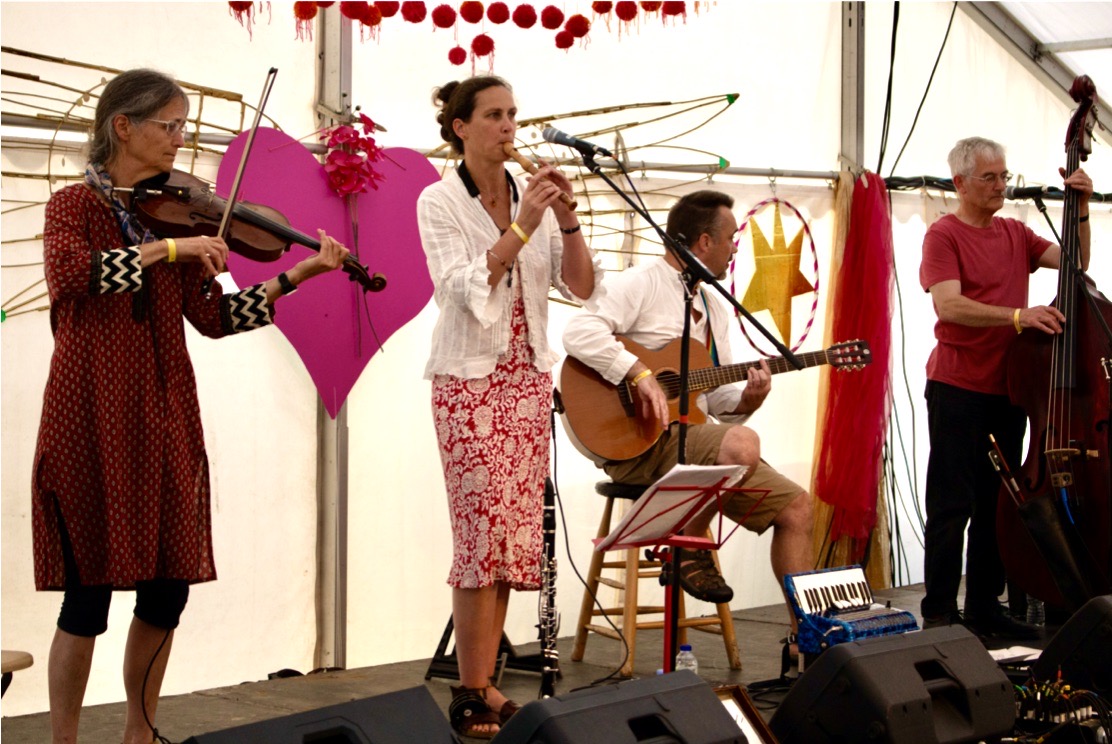 Klezmerized at Folk East - Photo by Mia Dunn
And for further listening Finn Collinson recommends:
"Alchemy – The Emily Askew Band (great fusion of early instruments/tunes with modern folk approaches, she plays recorder on a few of the tracks)
There are some nice arrangements of Scottish tunes for recorder quartet on Bavardage by The Flautadors, which might appeal to ears less accustomed to traditional music."


Finn Collinson's views on recorders in folk.
I very much enjoyed talking to Finn as I put this article together and so would love to share with you, his own views on this subject:
Something I've always been aware of in my own teaching is how useful folk tunes are in all sorts of contexts. They make perfect examples of musical structure, melody and harmony, and teaching by ear offers students the chance to develop their aural learning skills. Plus the history and context of the music is fascinating – since all my teaching happens in England, I try to include English folk music, and local tunes if I can, meaning students get the chance to learn about the social context of music from wherever they live.
My own discovery of folk music came about almost the opposite way – I was taught recorder at school, whereas the folk inspiration came from home. It wasn't until a fair few years later that I began to consciously cross those paths, but what I discovered at that stage is that lots of the music I'd already played was actually folk. I guess I wasn't so much attracted to folk music than just surrounded by it via my parents. Lack of provision for folk sessions and workshops where I grew up meant my method of learning was most often to obsess over CD recordings, mostly of fiddle and flute players, trying to copy what they were doing and learn their tunes.
Given its current presence in British folk music (or lack thereof) it's easy to forget that recorder is one of the oldest folk instruments in existence. Recently I've been enjoying delving into collections by composers of Baroque art music, people like Purcell and his contemporaries… there's masses of music there which either has its roots in, or can be easily used in the place of, folk dance tunes.
So often I get asked by die-hard folkies why I don't play whistles or flutes for traditional music – the answer is, well, I do, but I prefer recorders! The versatility of articulation, greater possibilities with tonality and extended techniques – coupled with the fact this is the instrument I'm by far the most familiar with, mean it just works the best for me!"
To find out more about the article writer, go to www.dawnwakefieldmusic.com
Also take a look also at the article Me and My Recorder by Val Woollard (Haines) on this website: https://mardles.org/magazine/opinion/330-me-and-my-recorder
We have also received this on the subject of folk recorder from Sarah Holmes from Skylarking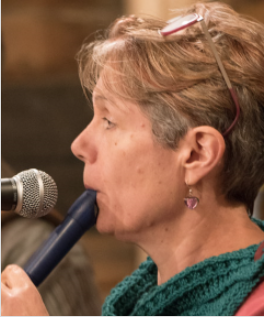 Having been spotted at Infants school as someone with musical inclinations (neither of my parents were in the least musical) I was promptly put on the chime bars! From there I progressed to the recorder and was encouraged by a folky year 3 teacher to play by ear. I grew up in Colchester and hugely benefitted from the Saturday morning music school that ran from the Institute in Sheepen Road- Big shout out to the dear departed Mr Goodall! It was there that recorder playing was taken more seriously and I managed to gain my grade 5 Treble (Trinity) when I was 9. It was an absolute joy to play in groups and also to learn musical theory at the same time. As always there is a push to play instruments that fit in an orchestral setting and I moved onto the oboe - although I continued to play treble, I did not have lessons or do exams. I do think that this allowed the recorder to stay hardwired in my head and to be kept linked with playing by ear – and also something that I did purely for enjoyment. Another big shout out for the Danbury music and drama camps that ran in the Summer holidays for primary kids by Essex County Council. I remember playing recorder there in the Summer of 1976 and it being a joy! Fast forward a few decades and I then joined a ceilidh band (RSVP) and initially played oboe, but it was so tiring and it was much more natural to play by ear on the recorder. I also think that the timbre suits folk tunes- as many tunes are in the key of D or G they fit beautifully under the fingers. I often switch to the sopranino if tunes are in C as this often fits better and can 'cut through' the other instruments where the descant can get a bit lost in C in comparison (personal opinion!).
I agree with Finn wholeheartedly, that folk tunes and the recorder are a totally sympathetic fit - recorders seem to be very happy playing here. I do play whistles and pipes but there are certain tunes I put my foot down and will only play on recorder as they sound sweet! I do think that the tuning of pipes and whistles are slightly more free-range and the recorder brings a tighter tuning (which helps when you play certain tunes and with certain instruments).
Instruments - I have flirted with various makes and makers but still come back to Moeck. I have had different ones over the years- I am a great fan of maple rather than fruit wood too. Rather shockingly I play a Moeck Flauto 1 in the band as it has a plastic top – but it can easily cope in all weathers and for long stretches of playing at one time. I killed off a rather lovely Rottenburgh through overuse sadly. I also have a boxwood sopranino which is an utter delight! But it really is each to their own- there are many wonderful instruments out there.
Looking back, I am still a bit sad I didn't have access to a piano as a kid, but I am supremely grateful to the Head teacher who encouraged me to play when I was little – it has led to so many happy times playing and meeting so many lovely people. Although the recorder was a training instrument and the pathway to playing in an orchestra, I have come full circle and now rarely dust off my oboe to play, whereas the recorder gets played regularly and happily. It still makes me laugh when at the end of playing for dancing at a wedding or party someone comes up and asks what instrument I was playing, and then looks shocked that it was a 'humble' recorder!
I hope this has helped any primary teachers to stick with or even promote the recorder - you never know where it will lead your pupils- in my case to years of playing for pleasure! A big shout out to Mr Collonan of Friars Grove School in the 1970s - now no longer with us, but I quietly hope one of his relatives may just read this and know what a difference he has made to me!