Review Holly Johnston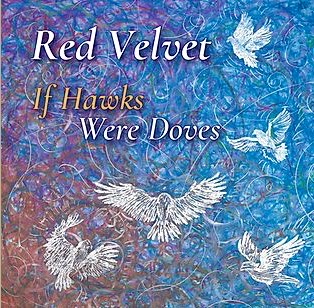 On listening to this 6-track Ep from the Cambridge-based band Red Velvet, I felt with each track that I was being taken back to another time of sepia colours and pork pie hats. The CD begins with the title track If Hawks Were Doves where I could imagine myself sat in an old time, honky-tonk bar drinking in the atmosphere. In some ways this song would fit well as the theme tune to a 70s comedy show, the words paint a story and the blues piano break in the middle fits perfectly.
The second track is Imposter, which speaks of imposter syndrome and contains what Red Velvet describe as their first ever rap. To me it was a bit more like spoken word, maybe because of the solid English accent that makes me think a bit of Dick Van Dyke in Mary Poppins and I say that with affection. There's some nice alliteration in the lyrics: 'luckiest loser' and the track showcases some really fluent piano flourishes.
Still Believe In Love follows on, but this time there is a solid 60s feel with backing vocals that add a layer of interest and some really great bass runs. There is a tight rhythm section to this band and I could see people sat in a pub tapping their feet and humming along.
Sad Songs And Wine is described as being about songwriting. It has a stand-out drum introduction and a really strong opening line of 'hello sad song, hello wine'. The guitar and piano combine beautifully with the piano taking the higher register and being topped off with soothing 'aaah' backing vocals. This song has some great lyrics: 'the streets are crowded and no-one says hi' contrasts with the opening line and then there is the poignant 'once again spending time in the company of sad songs and wine' which makes me think this is not just for writers but for listeners too. This is confirmed in the closing line: 'Can I pour a glass for you?'
Getting Too Serious is one of two tracks on the EP written by the bass player, Udin, the rest mainly being written by the acoustic guitarist, Ray, with input from the vocalist, Murphy on one. This song is about a trip to the coast when everything else gets too much: honky-tonk with a twist of country to my ear. The hook 'Getting too serious' is strong and lines like 'Run away to sea to see the sights' took me in my mind to watching 'Red Velvet' on a bandstand at the coast complete with ice-cream and chips.
The EP ends with the song The Last Thing We Need Is Another Love Song, which is, of course, a love song. It opens with picked guitar and has some melodic chord progressions together with a fab electric guitar break with fret bends. This sounds like an encore song to me as it drops down beautifully to guitar and vocal and then brings the whole band in to build up again. Lines like 'this life isn't worth the candle' ring through and I was pleased to see that they have made a video for this song complete with subtitles so that all the words are emphasised. The video is black and white and features images of the CD art work by Naomi Randall. There is a mix of live performance footage of the band and still images of old Hollywood stars in romantic scenes. I was excited to see that my picture of the band on listening to the CD rang true in the video as there were indeed pork pie hats.
'Red Velvet' describe this CD as exploring positive and negative forces, both inside and out. It was released on 1stJuly on Clunk and Rattle Records and can be found on their website: www.redvelvetfolk.co.uk . Also take a look at the video at undefined . The band are: Deirdre Murphy (lead vocals); Les Ray (guitar, banjo backing vocals); Colin R. Smith (drums); Gene Thunderbolt (keyboard, electric guitar) and Mike Udin (bass, backing vocals).