Review by Les Ray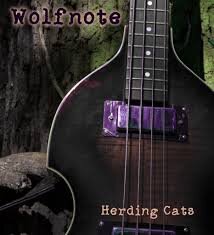 "Herding Cats" is the debut album by Berkshire-based quintet Wolfnote. The band comprises four women (Gill McCoy, Bex Rennie, Ceri Rushent and Ann-Marie Thomas) and one man, Mike Tuffery, the elder statesman of the band, so to speak. They are highly versatile, as they all sing, all play a stringed instrument of some sort, they have two recorder players (Bex and Ceri) and two percussionists (Mike and Ann-Marie).
The intriguing title of the CD refers to what the band describe as "the horrendous task of trying to get five people together in one place to rehearse (or in fact do anything) outside their day jobs...". And I don't suppose that's getting any easier now, since the CD was recorded before the first lockdown.
However, if getting together was as hard as herding cats, working together would seem to have been a much smoother experience, as this is a highly accomplished and eclectic first album, with great songwriting, singing and musicianship. All of the band members contribute their songwriting skills to the album, and this gives each song a distinct flavour, yet the band still very much have their own overall sound.
The CD starts in a lively manner with Stand By, which, as the band say, "is a light, pop-folk track that contrasts with the weightier lyrics"; the vocals by Gillian and the harmonies are lovely. Track 7, the ironically titled Love and Light, with its insistent beat, is similarly joyful musically despite the rather dark subject matter.
To my ears, In the Balance and Rise are both rather reminiscent of Pentangle, the former starting with a very original eerie chant intro, then going round and round like "the cycling of the seasons", the latter having that light jazzy folk style so typical of the late '60s folk-rock band.
Some might consider my comparison of the two above songs rather wide of the mark, as our responses to music are necessarily subjective, but in my view a couple of the musical style indications that the band provide in their notes accompanying the review copy are also misnomers, not that this detracts at all from the songs themselves: Westward Winds is describes as being "in a shanty style", which it isn't exactly, not being a work song, but it is definitely from the nautical tradition of folk songs. Mike gets a rare opportunity to sing in this one, which he wrote. Likewise, Queso doesn't strike me quite as "reggae", but it is intriguing rhythmically, with the stress on the first beat, more á la James Brown perhaps, but folkier, indeed to me it brings Kirsty MacColl to mind.
My favourite track on the album is Wandering Soul, which again has a beautiful vocal by Gillian, and a lovely melody and string arrangement. About a strong woman, but the vocals have the fragility of Ann Briggs.
Honourable mentions too for Universe and You, a gentle love song sung by Ann-Marie, and Closer to You, which is haunting, as befits a track that started out as a love song and turned into a werewolf song. The recorder arrangement reminded me of Van Morrison's Streets of Arklow, on "Veedon Fleece".
The album closes in a melancholy, warming way with Last Train. A lovely end to the album, sadly too short. Always leave them wanting more, as they say.
To sum up, this is a very strong first album; I look forward to hearing their follow-up.
Twitter: @folk_note