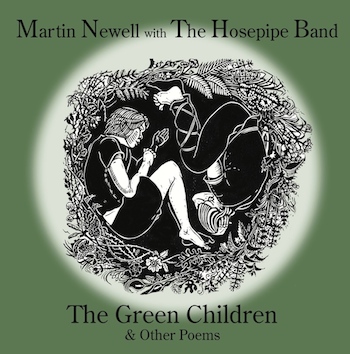 At harvest time during the chaotic reign of King Stephen of England (1135-1154), there was a strange occurrence in the Suffolk village of Woolpit, near Bury St. Edmunds. While the reapers were working in the fields, two young children emerged from deep ditches excavated to trap wolves, known as wolf pits, hence the name of the village. The children, a boy and a girl, had skin tinged with a green hue, and wore clothes of a strange colour, made from unfamiliar materials.
So begins the enchanting tale of The Green Children, so powerfully put into poetry by Martin Newell. This album is a follow up to The Song of the Waterlily  and is equally accomplished.
The two original sources for this unexplained story are both from the 12th century. William of Newburgh (1136-1198), an English historian, includes the Green Children in his main work Historia rerum Anglicarum (History of English Affairs), a history of England from 1066 to 1198. The other source is Ralph of Coggeshall (died c 1228), who was sixth abbot of Coggeshall Abbey in Essex from 1207-1218. His account of the Green Children is included in the Chronicon Anglicanum (English Chronicle) to which he contributed between 1187 and 1224.
Read more: The Green Children & Other Poems - Martin Newell and The Hosepipe Band