Written by Simon Haines

Simon Haines
Page 1 of 4
Having seen John Tams playing the melodeon in the Albion Dance Band in 1976, I decided that was the instrument for me. But where to buy one? At that time, Hobgoblin was a very small business selling second-hand concertinas from a garden-shed sized building somewhere in rural Sussex. I eventually tracked a one-row Hohner pokerwork instrument in C to a shop in Streatham, South London. I had to stop smoking to afford to pay the £30 they were asking for it! It wasn't long before I progressed to a two-row G/D Hohner pokerwork instrument.
That first year, I learned all the melodeon tunes on The Albion Dance Band's Prospect Before Us" and Ashley's Hutchings' Son of Morris On. My oldest son – now 44 – still can't get these tunes out of his head. Soon after this I bought The Old Swan Band's first album, No Reels, with melodeon player Rod Stradling and I learnt most of the tunes on that. The band's label, Free Reed, then proceeded to bring out more great melodeon and concertina records, including Tony Hall's wonderful Fieldvole Music. What a revelation that was!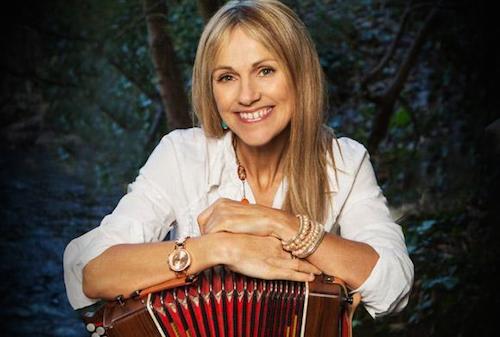 From here I bought the Topic album English Country Music from East Anglia and became familiar with the playing of Oscar Woods and Percy Brown. A whole new world was opening up. After a year of playing to myself in the kitchen, I decided it was time to get out and play live. At a Tony Hall performance at Colchester Folk Club, I met Phil Manchester, also a melodeon player who was preparing to put on Captain Swing, a show that in those days they called a "folk opera". He asked if I'd like to play in the band so that he could drop the melodeon and concentrate on the fiddle. Without knowing what their music was like, I said Yes and turned up at a rehearsal, much to the rest of the band's surprise, a couple of weeks later. Another revelation! The music, much of which had been composed by Phil Manchester, sounded like a combination of all the music I'd been listening to; the 10-piece band sounded like a combination of The Albion Dance Band and The Old Swan Band. We performed Captain Swing at Colchester Folk Club, a theatre in Ipswich and at Norwich Folk Festival – and the band Poor Man's Burden appeared on the front cover of the magazine Folk Review. Those were the days! When the show was over some of the band members went on to form The Hooligan Band which morphed into Bass Instincts and eventually after many changes of personnel, The Hosepipe Band.