Vicki Swan & Jonny Dyer  "Twelve Months & A Day "
by Mike Rudge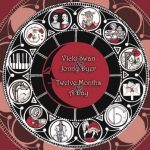 Vicki Swan & Jonny Dyer blend traditional material with contemporary sounds. Their performances showcase new interpretations of old songs alongside original self-penned tunes and new contemporary songs that are entirely at home in the tradition.
Be entranced by the haunting nyckelharpa, amazed at the cow horn (one of the worlds earliest communication devices) and meet some of the bagpipes that didn't come from Scotland.
Vicki studied at the Royal College of Music on the double bass. She also plays the various types of bagpipes, flute, recorder, piano and nyckelharpa (Swedish keyed-fiddle).  On leaving music college Vicki started down the long path of folk music and was only seen on rare glimpses back in classical orchestras.