Rogues & Rovers: Tyburn Road - Ian Giles and Dave Townsend

review by Bill Johnston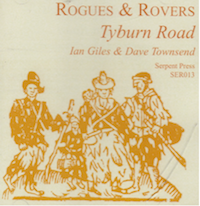 Tyburn Road is a project which unites two of Oxfordshire's best known folk performers and has given rise to this CD of songs and tunes arranged in three sections, Rakes, Sailors,and Country Pursuits. Accompaniment is provided, where needed, with Ian playing melodeon and Dave playing an assortment of English style concertinas. A chorus is provided by The Eynsham Crew.
I first came across Dave when I bought his books of 'English Dance Music' in original, spiralbound format, and Ian as a member of Magpie Lane. Dave has also led workshops at Suffolk Folk Day. Their musical style has been serious and consistent. I have enjoyed listening, but generally with a feeling that the music is worked to a perfection which may be distracting in itself.