Review by Colin Hynson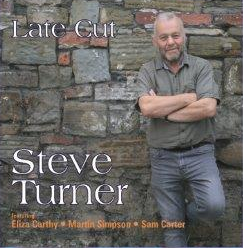 As well as being a consummate folk musician and concertina–player, Steve Turner is a bit of a cricket fanatic. So I thought that there might be some significance to the title of this album. In cricketing terms a 'late cut' is a batting technique in which the batter hits the ball behind him. It looks like a simple shot but it's actually difficult to do well. I could be reading too much into this, but the songs on this fine album are simple and cut-back yet are clearly the product of a musician that has spent many years immersed in and perfecting his craft.
Late Cut starts with 'Lily of the West', a traditional song arranged by Steve Turner. The song touches on those well–explored themes of English folk song, a rejected lover, jealousy and revenge. Steve Turner plays the concertina and provides the vocals whilst the guitar is played by Sam Carter.
That's one of the lovely things about this album. Steve Turner is joined by other fine folk musicians. You'll hear, amongst others, Sam Carter on the guitar, Eliza Carthy who lends her unmistakeable voice to harmony vocals, Gina Le Faux on fiddle and Martin Simpson appearing on the second track playing the banjo.