Review by Simon Haines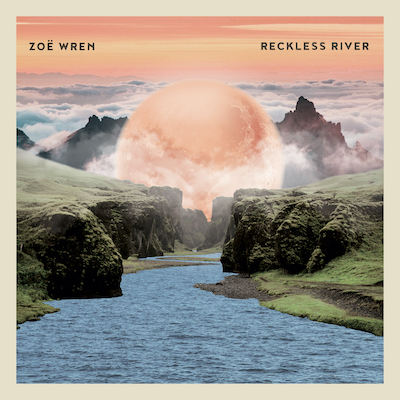 If you were in the audience at the Canopy Theatre in Beccles on October 31, you will have seen two first-rate performers: Finn Collinson and Zoe Wren. Since that evening Zoe has released her long-awaited 10-track album. I have been l lucky enough to receive an advance copy of this excellent album. Here is my longer-than-usual review. First some information about Zoë herself.
Zoë Wren started her musical career as a busker and still works regularly on the London Underground. She also plays folk clubs, festivals and other venues as a solo performer, with Jasmine Watkiss in the duo Roswell, and in a trio, The Honeybees. She helps organise singing workshops in prisons for the grassroots charity Sing Inside, and has raised money with her live-streaming performances for the C4WS Homeless Project.
Zoë has recorded several EPs, but Reckless River is her first full-length recording and comprises nine of her own songs and the traditional Let No Man Steal Your Thyme. An odd mixture? Not at all. Zoe's compositions have a lot in common with traditional songs: they have appealing melodies, tell personal stories and have catchy choruses and, without being overtly preachy or political, they also seem to present a consistent view of twenty-first century life, a view I'd characterise as refreshingly positive, empathetic and optimistic.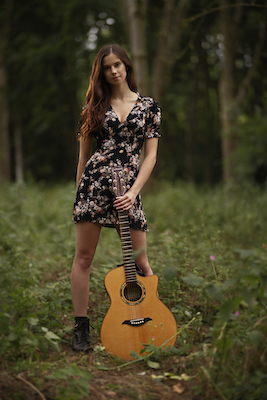 As a singer, Zoë has been compared to early Joan Baez and one of her own heroes, Joni Mitchell. I'd add to this distinguished list Cara Dillon. Her voice is simultaneously strong and sweet and her vocals are crystal clear - something that is not always the case when lyrics are swamped by overenthusiastic instrumentation. Zoë accompanies herself in an uncluttered way on guitar, with guest musicians David Delarre (mandolin), Martin Ash (viola), Jonny Wickham (double bass) Lauren Deakin Davies (electric guitar) and Tristano Galimberti (percussion and sequencing) adding tasteful, sparingly-used accompaniment. One or two tracks include unexpected but striking instrumental breaks.
The album publicity tells us that the ten songs are tied together by a theme of movement and journey, but I'd guess that this is a journey along life's reckless river, this winding track as much as a literal journey.
Smoky Sunrise is described as a break-up song for London. The writer is leaving behind the warm familiar feeling of being in a place she knows well. Is this partly because, in her current life, Zoe is shuttling between her home town and Lugano in Switzerland?
Elephants and Drums may be a recollection of a simpler more secure life before the writer sets sail on her reckless river. It may turn out to be a rocky ride. I'm tempted to compare it to Rimbaud's Bateau Ivre but maybe this would be a pretentious, unjustifable claim.
Cecilia is perhaps the closest this album comes to a traditional song. It tells of Zoë's Slovene great grandmother who gave up her dream of becoming a nun in order to marry a widower and look after his young children. It has a beautiful melody, a folky instrumental riff, and a thought-provoking chorus which starts with the line: Nothing's as frail as the plans that we make. How true this is in Covid year!
Welcome Here is one of Zoë's busking songs; she compares her life of a street singer entertaining passers-by with her jolly songs with the miserable existence of the homeless who litter the streets and feel they are not welcome here. Yet the song ends with an optimistic chorus:
There's a lights in the darkness
There's a song in the sound
There's a voice in the silence
And it's time we listen now.
Is it really 52 years since Ralph McTell wrote The Streets of London?
Come Home is another break-up song of sorts; maybe a daughter leaving her family and moving into a hostile environment for a reason we can only guess at. Those left behind warn her in vain:
The grass seems greener on the other side
But the trees are bare and the river's dry.
Let No Man Steal Your Thyme is the familiar folk plea to young girls to protect their virtue and resist the temptations of charming young men - those clinging vines. Zoë's version with its exciting, menacing instrumental break is a welcome reminder and updating of the Pentangle arrangement of this classic song.
Ring In Your Pocket is another busker's tale which imagines the reason why an audience member took an engagement ring out of his pocket and dropped it into Zoë's open guitar case. It's a sad tale but has an optimistic ending. Addressing the sad young man who has no further use for the ring, Zoë sings:
Don't look back
Stay on this winding track
And though you've been left
You can make a new start
With an empty pocket
And with hope in your heart.
London Town, probably my favourite song on the album, could have been written on a late-night journey home after a gig. Did Zoë look at the people she describes - Sally, Joe and Kim - and imagine their difficult lives? The wonderful melody and the upbeat chorus is again reassuring:
But it's alright
The wheel keeps turning round and round
Day follows night
As we make our way through London
We make our way through London town.
In Don't Touch My Guitar Zoë describes how she is likely to deal with any audience member who comes too close while she's busking. She's happy for people to dance or sing along but warns that they'd be taking their lives in their hands if they got anywhere near her instrument.
Just because you think I'm small and dainty
Doesn't mean that I don't know Kung Fu
So please think twice before you irritate me
Or you might find the tables turned on you
The final song on the album, What If comes from Zoë's experience of working inside prisons. It is clear that many of inmates she meets have never had an equal chance in life. The song pleads for understanding and compassion. The chorus says it all:
And oh, what if the time
Had flown by a little differently
And oh, what if a life
Was given the chance it needs.
Hopefully, it's clear by now that I am a huge fan of Zoë Wren. She's an all-round strong performer, an excellent musician and an inspiring songwriter. I am certain that we will see more of her in the future, but I suspect she is too canny to allow herself to be constrained by the small world of English folk and too principled to be taken in by the false promises of the commercial music world.
If she is performing anywhere you can travel to, don't miss the opportunity of seeing her, either as a solo performer or with Roswell or The Honeybees. And by the way, if you see Zoë busking on a London Underground platform. she does actually know Kung Fu, so watch out!
You can find more information about Zoë on her website at: http://www.zoewren.com and you can buy the physical CD and downloads from her Bandcamp page: https://zoewren.bandcamp.com/album/reckless-river
Here is Zoë singing Cecilia