Review by Colin Hynson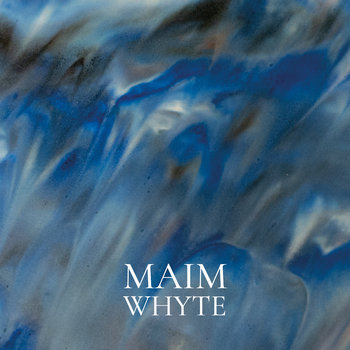 The two musicians that make up Whyte, Alasdair and Ross MacllleBàin, are making a name for themselves within the Gaelic music tradition. Some of that is due to their fusing traditional song forms with electronic music. Gaelic/Celtic music and electronica - especially the more minimalist sort - seem to be a good match for each other. Maim is an album that is both lush and forbidding at the same time with the ethereal sound of the Icelandic band Sigur Ros throughout.
This is an album that emerged because of the lockdown of 2020. Whyte were working with a theatre company putting together a show featuring drama, music, video and dance. The show explored the decline of Gaelic culture in the face of the forces of profound economic and cultural change and made worse by the climate crisis. The touring show ground to a jarring halt as lockdown began. The lockdown forced many people in the creative world to explore new ways of presenting their work. This album is one of those ways.
The first track, 'Oml' starts with a melancholic piano with a gentle pulsating electronic sound in the background. It's reminiscent of some dark folk or the musical scores to a horror movie. It's a song using the words to a 19th century Gaelic song called (in English) 'Goodnight to You All'.
The second track is the title track. It's an instrumental piece that leans heavily on the circularity and repetitiveness of much of folk music. Again it has a film–like quality to it and to my ears at least some influence from the start of Mike Oldfield's 'Tubular Bells'.
Track number three, 'Maim-Slé', is a spoken word piece with fluctuating music that beautifully follows the rhythm of the words. You don't need to understand any Gaelic to know what is being said. This is a lament for all that is gone and all that may go soon.
'Creach' is the next track. It has a slightly unsettling start before morphing into a gentle guitar piece with a keyboard background. This quiet–ness continues with an original Gaelic song called 'àill'.
For those who hanker after a piece of traditional music then the next track 'gur fad 'am thàmh mi gu tostach sàmhach', will more than satisfy. It's another 19th century song. It starts with just an unaccompanied voice and then with a slow build–up of keyboard and strings emerges from below. There's a short piano solo, which almost seems like some kind of interval, and then we're back with the second part of the song.
The album finishes with 'Mharbhrann' which seems to bring together all of the themes and styles explored in the album. Voices, strings and synthesiser music weave and dance around each other.
There's a strange paradox in an album that laments the demise of something that it may actually help to revive. Traditional forms of music the world over go through waves of decline before rising again. Much of that revival is down to a readiness to change and adapt with the times. Maim does just that.
Bandcamp link: