Review by Colin Hynson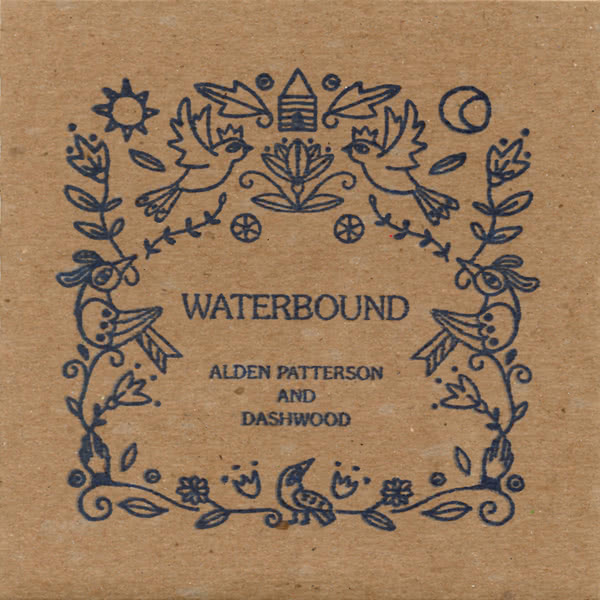 Waterbound is the third full–length offering from the Norwich–based folk trio Alden Patterson and Dashwood (Christina Aiden on vocals and guitar, Alex Patterson on fiddle, vocals and shruti and Noel Dashwood on vocals and dobro guitar). It's a refreshingly different listen from many similar offerings for one simple reason. The entire album of nine tracks was recorded in a studio in just ten hours. They played every track twice and chose one of them for the album. In only one case did they choose the second recording. There was no editing and no overdubs added. It's an album stripped down to the basics
The nine tracks are a mixture of interpretations of traditional pieces of music and some self–penned pieces. All three members of the band contributed at least one of their own pieces. All of the pieces are original with the exception of The Old Priory which appeared on their first album Call Me Home.
Seven Years is the first track on the album. It was written and arranged by Alden and Patterson and was inspired by that old favourite for folk–singers everywhere 'The Rambling Sailor'. This is followed by two original tracks; an instrumental piece The Old Priory, named after the family home of Patterson in Suffolk and then a song called 'Winter Came' which explores the benefits of migration and freedom of movement.
Next up is the title–song Waterbound which they learnt from the American bluegrass band 'Good Ol' Persons' and which they turned into an a capella. It works really well and is an excellent example of the rich harmonies that run through the album. After that, is a song called The Broads in December which celebrates the Norfolk Broads at a time of the year when the tourists have gone home and the whole area is quiet and still except for a few hardy ramblers and bird–watchers.
The band then reaches for some traditional southern American folk with Little Red Canoe. This is a reworked version of the well–known The Gumtree Canoe. They've added a new chorus, some extra words here and there and given it a new tune. An fiddle–led instrumental called The Dyeing Room follows. It was written for Alex Patterson's Mum who makes dyed textiles.
The penultimate track is another a capella track called Starry Crown which was originally recorded by the dobro player Billy Cardine. The whole experience finishes with the sea shanty Blow Boys Blow which Patterson heard performed by Phil Beer (of Albion Band and Show of Hands fame).
At the time of writing this review live music has been abruptly stopped dead in its tracks by the coronavirus outbreak. Strictly speaking this is not a live album so perhaps we can call it a 'live in the studio' album. However you want to describe it 'Waterbound' is a real pleasure to listen to.