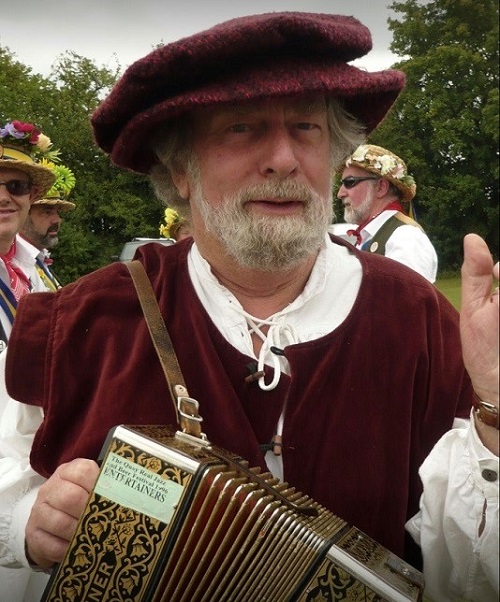 Fred Sanders
Neville Parry, Squire of The Morris Men of Little Egypt has sent the following tribute to Frederick Sanders.
"It is with immense sadness and grief that we announce the passing of our dear friend and Founder of the Morris Men of Little Egypt, Frederick Sanders. Frederick passed away at home on Monday 24th May surrounded by his beloved family.
Frederick had Morris blood running through his veins – he founded The Belchamp Morris Men in the 1970`s whilst living in Belchamp St Paul. After he and the family moved to Glemsford in 1987 a chance encounter led to the vicar of St Mary`s church asking Frederick to form a Morris side for a "one-off" performance at the Church fete in 1988.
Whittlesea Festival - Part 2

The festival dance programme began at the Manor Leisure Centre at 10.30am on Saturday morning with the spectacle, music and colour of the procession of morris sides led by the Straw Bear and his "driver".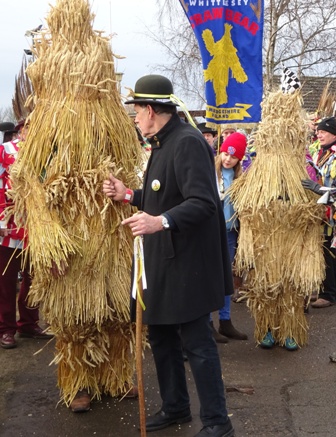 Two weeks ago, on the 16th March, when I wrote the first article, in what now is becoming a series, no-one expected that almost immediately all Morris practices, pub nights, day's of dance and festivals would be cancelled until further notice but that is what has happened. Even more astonishingly most of us are now required to remain in our own homes as part of the social (physical) distancing strategy. For those of us who are feeling an urge to get back to dancing here is a way of performing the Upton on Seven Stick Dance completely in compliance with social distancing; kindly provided by Keith Graham of Colchester Morris Men.
Following the Government announcement on 16th March the Joint Morris Organisations issued a statement which confirmed that the JMO National Day of Dance planned for 18th April 2020 in Liverpool has been postponed until April 2021 on a date to be decided.
Similarly, Daniel Fox, Squire of Thaxted Morris Men announced "the not-unexpected decision to cancel this year's Thaxted Morris Weekend due to be held on May 29 to 31. It is the first cancellation since 1939".

Morris On!
Dave Evans
29th March 2020
I would normally be at Morris practice tonight, Monday 16th March, but instead I'm sitting at home (home working?) writing this. As you may be aware today was the day that the Government asked us all to practise "social distancing". A question; "Is practice still on tonight – are you going?" was raised tonight at 6.05pm and the response to a quick email poll was rapid, which was just as well as a decision was needed well before 8pm, especially as some members cycle 10 miles or more to our practice venue. The result of the email poll was pretty unanimous and led to some interesting comments and discoveries.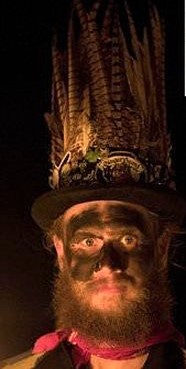 Hey, Guys, Is practice on tonight?
Read more: "Is practice still on tonight – are you going?" - Morris and Covid-19
John Clare's Scraping
You know how it is, you're doing the ironing or cooking and you have the radio on in the background and suddenly your ears prick-up as you become aware of something familiar or interesting. Well, there I was preparing an early supper when I heard Jon Boden's voice talking to me from the radio. He'd put together a great little programme about the poet John Clare, the "Northamptonshire peasant poet". He's one of my favourite poets and I even have an 1820 copy of his first book "Poems Descriptive of Rural Life and Scenery" which I inherited from my Mum. So, Jon Boden immediately got my full attention, especially as the programme was celebrating the 200th anniversary of the publication of that book.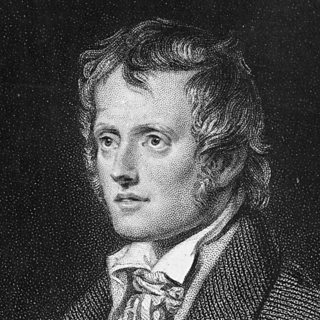 John Clare, the Northamptonshire Peasant Poet
The programme was on Radio 4 on Sunday 12th January at 4.30pm and can still be found on BBC Sounds but only until 10th February 2020. Sadly, it doesn't seem possible to download the programme. Boden celebrates John Clare's tune and song collecting, some of which Clare learned from the gypsy, Wisdom Smith, who he met around the Cambridgeshire village of Helpston, near Peterborough. Clare was described as a "decent scraper" and learned to play his fiddle tunes from visiting gypsy camps. He was one of the earliest folk song collectors and amassed a collection of 263 tunes and songs, some from the gypsys and others from his father's collection of over 100 ballads which he sang at local pubs.
The reason for including all this in a piece in Mardles Morris On! is that Morris does get a mention. One of the contributors to the programme says that Helpston had its own "Morris dance, as Clare calls it", but then says "which we would now call a Mummer's Play". Disappointingly, from my perspective, no more detail is provided in the programme after this tempting mention but it's further evidence of an East Anglian Morris tradition of some kind and an interesting glimpse into England at the time of the enclosures.
Have a listen to the programme yourself if you get the chance, and you'll also hear Jon Boden singing the John Clare version of Bushes and Briars.
Dave Evans
20th January 2020
Old Glory's recent trip to Kent was captured on film by a Brighton based young film maker, Conan Roberts of Unfolding Films. Filmed on a very cold day at the end of November in the harbour and on the beach at Whitstable, Kent. The film conveys, in a few quick frames, some of the essential magic, mystery, energy and power of the Molly and is enhanced with a voice-over by one of the dancers.
If you like this one another film by the company with a flavour of the Morris called "Modern Nature - Nature" may also interest you. If you can identify any of the sides involved please let me know so that I can give them a credit. I suspect that some of the sides may be from the Brighton area where Unfolding Films are based.
The film maker, Conan Roberts, has expressed an interest in filming a wide variety of Morris traditions, events and performances, so it may be worth contacting him through their website (see above) if you have something which may be of interest. I've already suggested that he might like to visit Thaxted in June.
Dave Evans, Mardles Morris Correspondent
8th January 2020