Review by Colin Hynson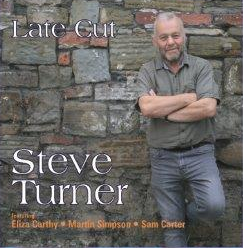 As well as being a consummate folk musician and concertina–player, Steve Turner is a bit of a cricket fanatic. So I thought that there might be some significance to the title of this album. In cricketing terms a 'late cut' is a batting technique in which the batter hits the ball behind him. It looks like a simple shot but it's actually difficult to do well. I could be reading too much into this, but the songs on this fine album are simple and cut-back yet are clearly the product of a musician that has spent many years immersed in and perfecting his craft.
Late Cut starts with 'Lily of the West', a traditional song arranged by Steve Turner. The song touches on those well–explored themes of English folk song, a rejected lover, jealousy and revenge. Steve Turner plays the concertina and provides the vocals whilst the guitar is played by Sam Carter.
That's one of the lovely things about this album. Steve Turner is joined by other fine folk musicians. You'll hear, amongst others, Sam Carter on the guitar, Eliza Carthy who lends her unmistakeable voice to harmony vocals, Gina Le Faux on fiddle and Martin Simpson appearing on the second track playing the banjo.
That second track is 'Ain't Gonna Work Tomorrow'. It's based on a well–known American folk song and has been covered by many musicians in the past. On the arrangement Steve Turner has gone for a bluegrass style. It's a lovely song but I'm not sure that Steve Turner has a bluegrass voice. Most bluegrass singers need to sing higher than in other traditional forms. Here he is clearly at the upper end of his range and occasionally you can hear that.
Like the last track "Sullivan's Farewell" has Steve Turner putting aside his concertina and simply singing to a keyboard and cello accompaniment and with Eliza Carthy providing background vocals. It tells the story of an 19th century American soldier writing a letter to his wife and kids before the eve of a battle in which he has a premonition of his own death.
Over his years on the folk scene Steve Turner has been a bit of a magpie, accumulating songs and song fragments that he stores and then digs through in search of new materials. "On the Road to Tipperary" is the result of one of those rummages. There's no reference to where the song came from but it covers that eternal theme of thwarted love.
There are then a couple of songs that touch on political/social issues, "Babylon is Fallen" was written Henry Clay Work. Work was one of the great American songwriters of the 19th century and was one of the best–known slave abolitionist campaigners. This anti–slavery song was written in the 1860s and the spiritualist influences can clearly be heard in this version. This is followed by "Palestine" which is co–written with Paul Metsers and is the only original song on the album. It's a heartfelt plea to listen to those who are living through through that seemingly intractable conflict.
Two more songs are revisits from tracks from Steve Turner's first album Out Stack. The first one is "Is Your Love in Vain?" This is a song from Bob Dylan's album Street Legal. It's an interesting choice as Street Legal was a big step on Bob Dylan's move towards more rock–orientated music. The other revisited song is "The Two Sisters" a song collected by the Scottish song collector Anna Gordon.
Steve Turner also covers some well–worn ground with a couple of songs that have been covered by many other traditional musicians. Virtually every listener of folk music would have heard a version of "The Rambling Sailor" which tells the story of a sailor coming from sea and, with some money in his pocket, goes in search of some company. There's also "Mary of Argyle" which is based on a poem by Robert Burns. It's better known as "Bonny Mary of Argyle" and Steve Turner joins a long line–up of musicians that have recorded versions of this song.
This is a fine album which draws on traditions from the United States and from across the British Isles. Steve Turner's music has deep roots but this album retains a freshness and simplicity of sound. For any lover of English traditional music then Late Cut should probably be in your 'must listen' list. More about Steve Turner here