Vicki Swan & Jonny Dyer  "Twelve Months & A Day "
by Mike Rudge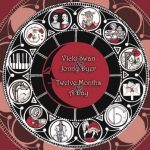 Vicki Swan & Jonny Dyer blend traditional material with contemporary sounds. Their performances showcase new interpretations of old songs alongside original self-penned tunes and new contemporary songs that are entirely at home in the tradition.
Be entranced by the haunting nyckelharpa, amazed at the cow horn (one of the worlds earliest communication devices) and meet some of the bagpipes that didn't come from Scotland.
Vicki studied at the Royal College of Music on the double bass. She also plays the various types of bagpipes, flute, recorder, piano and nyckelharpa (Swedish keyed-fiddle).  On leaving music college Vicki started down the long path of folk music and was only seen on rare glimpses back in classical orchestras.
Composer and guitar player, Jonny Dyer's technical ability, coupled with his wide-ranging musical taste has made him a tireless and forceful musical innovator. Jonny says he has been singing and playing choral music, soul, jazz and folk for as long as he can remember!
Twelve Months & A Day is their 9th album, and is available on Apple iTunes and Spotify, as well as a hard CD for those who yearn for the physical!
The opening track starts with a beautifully haunting tune,"Långsammapolskan", that quickly increases pace by flowing into "Andy Clarkes", ending with "A Trip to Habertonford".  As the album sleeve points out, a set containing two cracking session tunes. This sets the tone for the album. A vast variety of genres – dance (and more dance), sad, jolly, romantic waltzs, classical, American Civil War,Contra etc, etc. The second track is a cracking song, in true folk tradition, of death and spooky shenanigans –"The Gallows Tree". Based on "The Demon of The Gibber" by Fitz-James O'Brien (1826-1862) this arrangement showcases all the musical talents of this intrepid pair.
The rest of the album is equally beautiful and varied. There is enough here to sate all tastes in folk and traditional music. This duo are prolific. The website   http://www.swan-dyer.co.uk  is a veritable Aladin's cave of information and resources, including free books of dots for those so inclined (although a donation would be appreciated). At the time of writing, however, I could not find the dots to this latest album.
As Vicki and Johnny state, When we started planning this album, we were looking for a theme. An album of traditional songs, perhaps, or dance music or even early music. We quickly realised that any decision to theme the album would force us to exclude much of the variety that we so love playing.
Hence this album has music from their folk club repertoire, their touring shows, music with a historical perspective, and dance tunes; lots of dance tunes. This is a snapshot of what they got up to in 2018. I've had the pleasure of seeing Vicky and Jonny live, and I urge others to share the experience of a talented couple exploring the vast range of genres of folk entertainment.