When Barley Reaches the Shore  (SAV005CD Woodland Records 2018)
by Bill Johnson
Alastair is a classically trained violinist who combines his seat in the BBC Scottish Symphony Orchestra with an active participation in the heritage music of Scotland. Alastair's respect for the tunes within the Gow, Skinner and Marshall collections is showcased here together with some of his own compositions.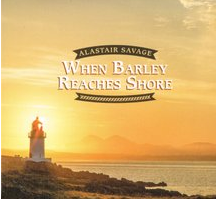 The CD comprises instrumental music of the highest quality throughout. Alastair is joined by long time colleagues, Iain Crawford, Co-Principal Bass of the BBC Scottish Symphony Orchestra and a player within the 'tradition', and Euan Drysdale on piano and guitar, a trained and experienced musician with a broad CV. The music is organised by reference to the source for the tunes presented, and expertly arranged in a disciplined Scottish style which may be distinct from the general approach to folk music in other British traditions, allowing for exceptions. Some of the tunes presented are familiar in a social and session context, for example, Farewell to Whisky and Hector the Hero. I discovered that a hitherto anonymous tune which I have played for many years is a Gow composition, Highland Whisky. Alastair's own compositions sit easily with the older tunes. I thoroughly enjoyed his two sets of Islay Wedding Music, and The Soldier's Prayer. My favourite piece on the CD is Chapel Keithack from the William Marshall collection.
In summary this is a CD packed with well chosen tunes, professionally arranged and beautifully played. That is not to say that it is an 'easy' listen. The music commands the attention of the listener, the style is challenging at times. I would find it a serious distraction to listen while operating machinery! Although released under Alastair's name this is an ensemble exercise and the arrangements fully employ the skills which Euan and Iain bring to the mix. I particularly enjoyed Iain's double bass playing, well recorded and mastered within the overall sound; Dave Gray was the recording engineer.
I suspect that heritage music is a labour of love for these musicians, who each have other calls on their time and talent, centred in Scotland. Well worth hearing in person should the opportunity arise, and meanwhile When Barley Reaches the Shore is the latest in a series of records, four with this line-up, and one of solo fiddle, to sate your appetite.
For more information and taster tracks go to Alastair's website http://alastairsavage.co.uk