Rogues & Rovers: Tyburn Road - Ian Giles and Dave Townsend

review by Bill Johnston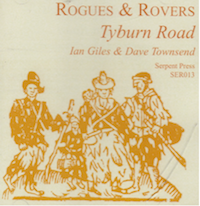 Tyburn Road is a project which unites two of Oxfordshire's best known folk performers and has given rise to this CD of songs and tunes arranged in three sections, Rakes, Sailors,and Country Pursuits. Accompaniment is provided, where needed, with Ian playing melodeon and Dave playing an assortment of English style concertinas. A chorus is provided by The Eynsham Crew.
I first came across Dave when I bought his books of 'English Dance Music' in original, spiralbound format, and Ian as a member of Magpie Lane. Dave has also led workshops at Suffolk Folk Day. Their musical style has been serious and consistent. I have enjoyed listening, but generally with a feeling that the music is worked to a perfection which may be distracting in itself.
Perfection aside, here presented are a number of songs familiar to folk enthusiasts and club members, sometimes as variants, well sung and accompanied in straightforward style. I find this refreshing, as the folk world seems to have become a cult of personality with a business focus driving output. Dave and Ian concentrate on the material, be it song or tune, and play in a style that gives respect to the melody or lyric.

In amongst the traditional material on the CD are a song by Ian, Isaac Darkin, a great narrative about a highwayman turned sailor in the eighteenth century, and an arrangement by Dave of a poem by Robert Service, Battered Old Accordion. The CD is liberally dotted with tunes and part tunes both on their own and within song arrangements. A Trip to Tyburn displays some well selected tunes and cracking concertina playing.
My picks from the abundance for choice, are The Jolly Waterman from Charles Dibdin's ballad opera, and Walter Pardon's Let the Wind Blow High or Low, again with cracking concertina. Sixteen recordings on the CD make it good value. The sectional track listing allows a way in to those for whom a full length CD of straight old fashioned folk might be heavy weather. Effectively this is a souvenir for Ian and Dave's show under the same title. I suspect the audience is largely self selecting.
A smashing presentation from which I may borrow a couple of tunes and songs to share at local sessions. I am sure others will do likewise, but none of us with the skill and swagger that Dave and Ian invest in their performance.


March 2019