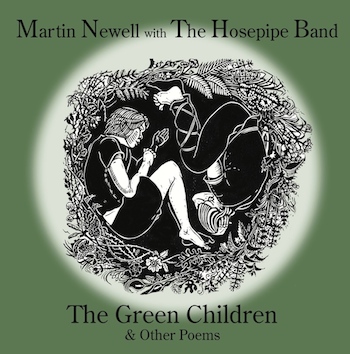 At harvest time during the chaotic reign of King Stephen of England (1135-1154), there was a strange occurrence in the Suffolk village of Woolpit, near Bury St. Edmunds. While the reapers were working in the fields, two young children emerged from deep ditches excavated to trap wolves, known as wolf pits, hence the name of the village. The children, a boy and a girl, had skin tinged with a green hue, and wore clothes of a strange colour, made from unfamiliar materials.
So begins the enchanting tale of The Green Children, so powerfully put into poetry by Martin Newell. This album is a follow up to The Song of the Waterlily  and is equally accomplished.
The two original sources for this unexplained story are both from the 12th century. William of Newburgh (1136-1198), an English historian, includes the Green Children in his main work Historia rerum Anglicarum (History of English Affairs), a history of England from 1066 to 1198. The other source is Ralph of Coggeshall (died c 1228), who was sixth abbot of Coggeshall Abbey in Essex from 1207-1218. His account of the Green Children is included in the Chronicon Anglicanum (English Chronicle) to which he contributed between 1187 and 1224.
The Hosepipe Band is an established East Anglian outfit which plays for public and private ceilidhs. It consists of Geoff Coombs (Mandola), Simon Haines (Hurdy Gurdy, Concertina, Bandoneon, Footbass), Val Woollard (Hammond Dulcimer, Bagpipes, Recorders, Glockenspiel), Cara Bruns (Keyboard) and Peter Nice (Double bass, Electric Guitar).
The poetry of Martin Newell mixes classic couplets with modern idiom:
It happened when the grain was high
And ripened fully in its husk
Lord Sun was lolling in the sky
And rubicund at dawn and dusk
A year content in middle age
When time drifts by like thistledown
Yet no two days would seem the same
After the Green Children came.
This launches us into the first music track – Green Children – which begins our musical and poetic journey through this haunting tale.
The second half of this album consists of other poems and music. The poems have a strong Norfolk leaning, and the tunes are beautiful and catchy, all composed by the band members. The synergy of the music with the poetry is both complimentary and seamless.
The Green Children was played for the first time at Latitude and Folk East festivals in the summer of 2016. The band have been around for some time, playing for their first dance in May 1993. Since then they have played six hundred or so times for public dances and for private celebrations – around the UK but also one or two in France and Italy. For a period of six years the band played for the New Year's Eve ceilidh at the home of English folk music and dance: Cecil Sharp House in London.
Their dance repertoire combines traditional music from the British Isles and other European countries with their own compositions.
CD available from https://www.hosepipebandmartinnewell.co.uk/index.php/music
Review by Mike Rudge
August 2017