The name Rosewood is a fairly recent one, but the members of this trio have been performers on the folk scene for some years and have played at major UK folk festivals as well as on the club circuit. Members of Rosewood have played or still play in Bass Instincts, Bof!, Crownstreet, The Hosepipe Band and RSVP.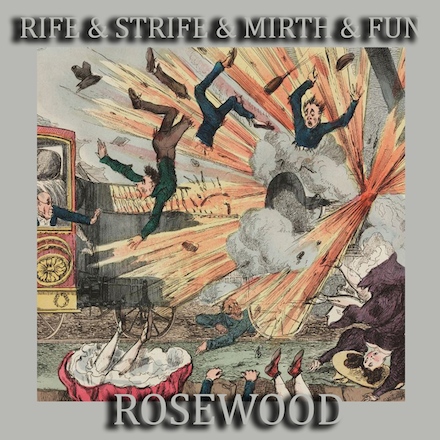 Rosewood sing and play traditional and contemporary songs and instrumentals, some of which they have written themselves. Their unique features are the range of their source material and the array of instruments they play. These include bandoneon, footbass, hammered dulcimer, bagpipes, bouzouki, and deskbells.
The members of Rosewood are: Val Woollard - Bagpipes, Recorder, Flute, Hammered dulcimer, Desk Bells, Saxophone, Vocals; Phil Lyons - Guitar, Bouzouki, Vocals; Simon Haines - Melodeons, Concertina, Bandoneon, Hurdy Gurdy, Footbass, Vocals
The band's 13-track CD, Rife & Strife & Mirth & Fun is exactly what it says on the album cover. The band manages to present a collection of songs and tunes, old and new, English and foreign, happy and sad, all in a superb mix of entertainment. Something for everyone on this album. All of this trio are so talented that they can turn their hand (and fingers and voices) to a plethora of genres.
The album begins with a jolly tune celebrating the opening of the Oxford & Hampton Railway of 1853. What follows is a veritable cornucopia of music, perfectly executed with the joy or pathos required.  I particularly like their version of the James Hill fiddle tunes  "The South Shore" and "The Hawk" that they found in the Northumbrian Piper's tune book. Other tracks include "I Wanna Marry a Lighthouse Keeper" (featured in the film Clockwork Orange) and the more traditional "The Bold Princess Royal". Credit must also be given to Simon Haines who has composed several of the tunes on the album. He has a real talent.
Rosewood are based in East Anglia and most of their recent and forthcoming bookings are in the south and east of the country, including The Milkmaid Club in Bury St Edmunds, Colchester, Hadleigh and Epping.
Full details can be found on the band's website - https://rosewoodband.co.uk/
Review by Mike Rudge
August 2017