A new CD of Songs and Poems about Dunfermline Weaving
Performed by Gifford Lind, Alex Black,and Guy Burgess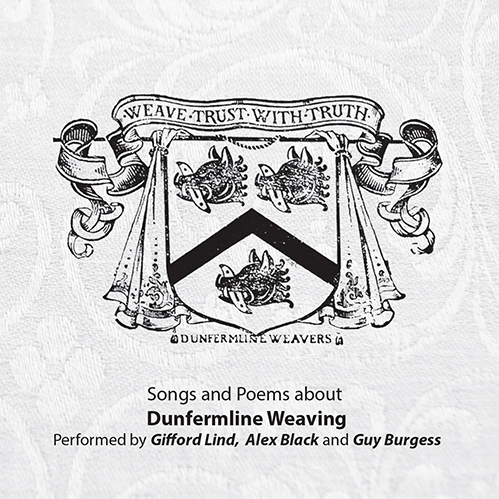 A project local to Dunfermline in which some local musicians were asked for songs to accompany weaving exhibits in the Carnegie Library and Galleries Museum. This album is built around the song and poem that were found, supplemented by original material. Some of the new songs are set to existing folk airs so that despite three contributors whose individual writing and performance styles can be differentiated, the material benefits from a cohesive approach. Enough preamble…
The two pieces upon which the CD is built are 'The Shuttle Rins' by Henry Syme (pub 1849), an industrial protest song disguised in gentle ballad form to the tune of 'The Boatie Rows', and 'Dunfermline Linen', a light murder/suicide recitation often heard as a leavener in sessions. The remainder of the main part of the CD are original songs, fulfilling the commission. I particularly enjoyed 'Jamie Blake' and 'The Weaving's Gone' both by Gifford Lind. The CD is completed by 'bonus' tracks a song and recitation recorded live and 'The Work o' the Weavers' to close.
Stylistically the music is in a Scottish form which has continued in popularity over half a century or more and is played well. Gifford Lind and Alex Black 'reside' at Dunfermline Folk Club (which looks to be a 'must visit' if in the area). Gifford is described as a singer-songwriter. Guy Burgess is presented as an accompanist, but he regularly plays with Gifford and Alex in other contexts. (He also has an independent musical career). Recorded at 'The Birchens' studio, which I take to be local, mixed and mastered by Julien Pearly, who has a fascinating CV.
The CD fulfils its brief, and will stand alone for weaving enthusiasts and lovers of this Scottish style of folk music. A couple of the new songs may be picked up and enjoy a wider circulation. The album sleeve by Gifford Lind and Julien Pearly is excellent. Profits from sale will be donated to Alzheimer's charities. So, worth a punt if you have an interest.
Bill Johnston 22.11.2018