A celebration/wake for Hageneth will be held at the Chestnut Horse, Great Finborough at 12.30pm on 10th November and a great turn-out of ex-members and friends from other sides is expected. We hope that a Hageneth side of some kind will dance as well as the Haughley Hoofers. All are welcome. The Chestnut Horse has been chosen for the event because that was where Hageneth first performed in public in June 1977, as below.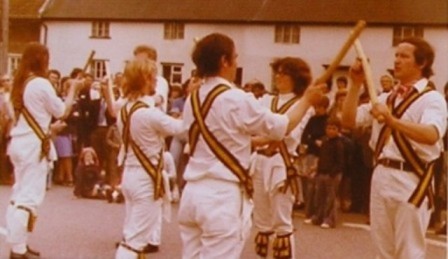 Hageneth June 1977
from left, Codge Barber, Bruce Sydell (hidden), Ronnie Godbold, Brian Francis, Sally Green, Dave Burt
Hageneth, founded as "Haughley Festival Morris" in 1977 to perform at Haughley's Queen's Silver Jubilee celebrations, have been suffering a mid-life crisis for the last 2 or 3 years. They managed to reach their 40th birthday but have now sadly passed away after 42 years. The side have decided that because of a declining number of fit and able men, it is no longer possible to continue as an independent side. Some members of the side will continue dancing with other local sides.