from Pete Rushmer - March 4th 2021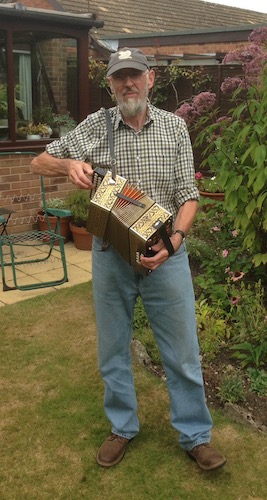 It is with great sadness we have to advise that NORFOLK FOLK HERO and 'pilot' of Norfolk's Flying Folk, GEOFF ROBERTS died recently after a short spell in hospital.
Geoff, a quiet, genial, unassuming Norfolk man, was an enthusiastic stalwart of the Norfolk folk scene, within which his unique and rousing Flying Folk nights have become an enviable and much enjoyed institution over the last three decades.
Flying Folk nights are uniquely itinerant, in that a different venue is visited each session, typically on a Saturday night and at a local pub. They fall mainly within a 20 mile radius of Norwich, although the occasional foray further afield has been equally successful over the years.
Since the early days Geoff's Flying Folk nights have taken place regularly on a roughly monthly basis, with a break in the Summer, and with a special session every Boxing Day. They have grown enormously in popularity and standing over the years. This is in no small way due to Geoff's enthusiasm and commitment, along with that of his wife Myrtle, organising things himself and keeping in close personal touch with participants and venues alike, many of whom have become good friends over the years.
With Geoff "in the cockpit" as MC, and Myrtle at his side, he' piloted' lively, rousing, free and open sessions for folkies and non-folkies alike. Consequently, for years now Flying Folk has attracted a loyal following of talented amateur and semi-professional performers, along with the occasional professional. Contributors are some of the best in Norfolk, often with close links to the Norwich and Norfolk folk scene of the '60s and '70s. Many others are encouraged to join in, though, and are always made welcome.
There can be no doubt that the heroic commitment Geoff made to his Flying Folk nights, along with the support he regularly received from a faithful corps of performers, enthusiasts and venues, helped make these sessions the legend they have become.