A celebration/wake for Hageneth will be held at the Chestnut Horse, Great Finborough at 12.30pm on 10th November and a great turn-out of ex-members and friends from other sides is expected. We hope that a Hageneth side of some kind will dance as well as the Haughley Hoofers. All are welcome. The Chestnut Horse has been chosen for the event because that was where Hageneth first performed in public in June 1977, as below.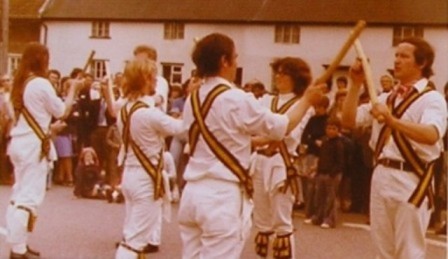 Hageneth June 1977
from left, Codge Barber, Bruce Sydell (hidden), Ronnie Godbold, Brian Francis, Sally Green, Dave Burt
Hageneth, founded as "Haughley Festival Morris" in 1977 to perform at Haughley's Queen's Silver Jubilee celebrations, have been suffering a mid-life crisis for the last 2 or 3 years. They managed to reach their 40th birthday but have now sadly passed away after 42 years. The side have decided that because of a declining number of fit and able men, it is no longer possible to continue as an independent side. Some members of the side will continue dancing with other local sides.
Hageneth had the advantage that when they began all the dancers were young, mostly aged between 25 and 35 years and were fit, enthusiastic and willing to learn which was necessary as most of them had never danced Morris before. They will be remembered for the athleticism and vigour of their displays; a standard set by those original young dancers, especially founder member Ronnie Godbold.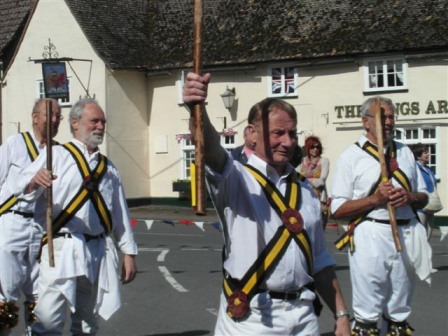 Ronnie Godbold's last dance 2012
Formed with the expectation of being a men's side an injury to one of the original dancers, Roger Green, resulted in his wife, Sally Green, taking his place at the first performance. More women joined at the first practice season in September 1977 and the women subsequently formed Bury Fair Women's Morris. Hageneth may not have been successful in preserving their side for future generations but it is a comforting thought that when it started in 1977 it was only the second side in Suffolk; now there are 19 sides, 4 of which have started in the last 5 years. Bury Fair are still going strong and other sides, notably, Haughley Hoofers, but also Green Dragon and Milkmaid Molly can trace a connection to the original Haughley Festival Morris. Hageneth have always had men from the village dancing in the side but they have also included men from other Mid Suffolk villages and also occasionally from the Bury St Edmunds area.
The side performed at numerous Haughley village street fairs, fetes and festivals as well many village fetes in the area. They took part in several civic events including twinning celebrations for Haughley (with Noyelles lez Seclins, France) and Bury St Edmunds (Compiegne, France and Kevelaer, Germany). They also had several foreign tours of their own; the trip to Angers, France in 1979 was particularly memorable and led to a long term friendship with "La Compagnie Marc Leclerc". A trip to Bavaria in 1982 was also a success and led to a dance exchange the following year. In later years there were trips to Spain and France. Individual members have also danced for Hageneth in America, Taiwan, New Zealand and Russia.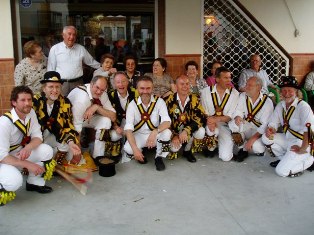 Carcabuey, near Cordoba, Spain 2007
Hageneth applied for membership of the Morris Ring at the Annual Representatives Meeting in March 1983 and were duly elected as members. Hageneth have enjoyed dancing at Ring events, especially at Thaxted, at Ales and Days of Dance and also at Whittlesea, Sheringham and FolkEast.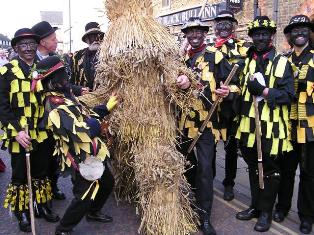 Whittlesea 2006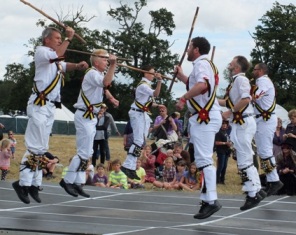 FolkEast 2014
To be continued, Morris On!
Dave Evans
Haughley resident and last Squire of Hageneth Morris Men