STRINGFILLIES – THE ACOUSTIC LOUNGE, HUNGATE CHURCH, BECCLES – FRIDAY 20TH MARCH -7.30 p.m. - £10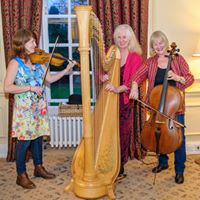 StringFillies featuresXenia Horne (harp, vocals), Hattie Bennett (cello, vocals) and Emily Bennett (fiddle, vocals) who will present a fully acoustic and intimate evening of tunes and songs

The trio formally launched at Folk East in 2015, although they have played together for many years in theatre productions and for different concerts. Their love of traditional music making brought them together in this new format.
Their music combines tunes and songs from the Celtic and Gaelic tradition coupled with music from further afield including Georgia and Russia. They also write their own material and re-arrange songs and tunes as they discover new treasures on their travels.

The combination of the concert harp with cello, violin and voices offers a magical and flexible quality and brings a sense of traditional music making to their performances.
This intimate concert at Hungate Church is a totally acoustic show. Please note there is no bar for this show, so please bring your own refreshments, alcoholic or otherwise.
Tickets are available locally from Beccles Books, Exchange Square and online at www.ticketsource.co.uk/martello-promotions
Here is a link to an extended video of the trio playing at Felixstowe Proms in 2019