After a short Summer break to play at folk festivals, Dance Folkus returns to resume their regular first Friday English barn dances in Woodbridge Community Hall.
If you haven't been before why not start attending this month. It's fun – a laugh. It's active and energetic. You actually get to hold hands with your partner! There's a live band. Someone (a caller) runs through what you have to do for each dance and keeps reminding you what to do while you dance.

Dance Folkus was originally set up to encourage young people to enjoy social dance This accounts for the low cost of entry offered to students (including college & university attenders) as well as younger family members. At least 70 people usually attend with all ages represented.
Our caller for September will be Norfolk based, Jill Parson. She has called for our dances before and has a range of fun and occasionally tricky dances. Come and dance or even play along with our resident 'Dance Folkus 'Come All Ye' Band led by Harbour Lights.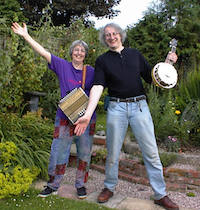 Our 'taster' song spot will be Maggie Moore & Stan Bloor. They hail from Mid-Suffolk and have been performing together for many years playing and singing a wide variety of songs including traditional, music hall and risqué comedy songs. However, their main love are the songs, tunes and poetry of Lancashire, particularly those concerning the industrial revolution and the weaving and spinning industries. Maggie plays Melodeon, Piano Accordion and Hammered Dulcimer whilst Stan plays Guitar Banjo and Ukulele
New dancers wanting to attend can book a discounted ticket by emailing
This email address is being protected from spambots. You need JavaScript enabled to view it.
(no payment in advance) or you can simply come along on the night (£7). Entry for students or children is £3 at the door. Telephone Rob 01473-610951 if you need further information. Visitors to Woodbridge & new first-time dancers are always very welcome to attend our dances at Woodbridge Community Hall in Station Road IP12 4AU starting at 7.30 pm.