by Jill Parson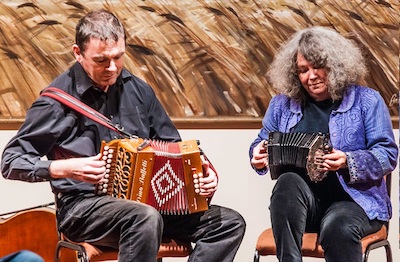 Since Suffolk Folk 'morphed' into mardles.org in 2017 the idea of putting on events in East Anglia was always near the top of the agenda for the steering committee. Enter Vintage Squeeze! a group of enthusiastic melodeon players based in Norwich who will travel almost anywhere  to reach a workshop that would help them improve their mastery of the instrument.
Through a mutual contact, the idea was raised that as a first venture into organising a folk-related event putting on a day of melodeon workshops in Norwich would be a good place to start. It was! And it was a good collaboration too.
The melodeon players themselves decided on the format and level of the day. They researched and found a brilliant venue in St Luke's Church, Norwich and did a great job of spreading the word in the local area.
In the meanwhile, mardles.org were getting on with publicity material, sourcing the course tutors - the wonderful Mary Humphreys and Anahata - and setting up a system for handling tickets sales, advertising and general 'official' things that are always associated with putting on a public event.
Read more: Playing together workshop - Norwich, 13 April 2019