Born in Palestine, raised in Beccles, Suffolk, Tony, now 75, came upon his first melodeon by accident in the very early 1950s. His Uncle Sam visited from America (yes, Uncle Sam really was his name) staying with Tony, his two brothers, mother and father, and left the family his two-row diatonic Hohner instrument on his return.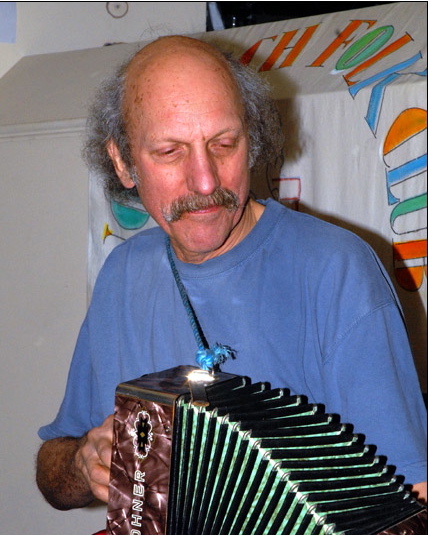 At the time there were no other instruments in the family home, and Tony was the only one to show interest in Uncle Sam's melodeon. He proceeded to teach himself to play by listening to a whole spectrum of music of the day mainly on the wireless, particularly that of Jimmy Shand, developing his own unique style of playing what he heard, unconstrained by academic musical conventions. He says modestly, "I could play the mouth organ, and it was the same system, except for bellows instead of lungs!"
In his own understated way, Tony characterises his style of playing as slow and lazy, while being gentle with the instrument. All of this is true to a degree, but, thanks to his exceptional musicality and supreme talent, he coaxes much more from the instrument than others, 'painting' rhythmic, multi layered musical 'pictures' of melody, counter melody and harmony with both treble and bass ends in a relaxed and apparently effortless manner; it's as if he were playing with two pairs of hands at the very least. And his repertoire doesn't simply comprise English, Scottish, Irish, American and French Canadian folk music either; thanks to his early, eclectic, musical influences he is as adept at playing the likes of the Trumpet Voluntary as the Trumpet Hornpipe, or accompanying himself singing anything from Sea Shanties to South American Blues. On top of this he pens and performs his own well-crafted songs and tunes, the former ranging from the hilarious to the hugely poignant.
Read more: TONY HALL – Revered Melodeon Maestro and Folk Legend!