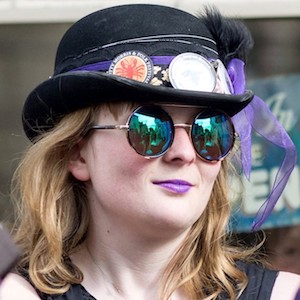 Hidden away in the North of Suffolk near the legendary Wissett treacle mines is a young talented, traditional singer and musician who has a growing reputation, both locally and nationally, for her pure voice and fine, clear singing style. At 24, Megan Wisdom is Suffolk through and through, she was born in Ipswich but moved at an early age to the north of the county. She went to school in Halesworth and Bungay and while there she started to develop her interest in music.
At the age of 7 she was taught at school to play the ocarina by her teacher and traditional music enthusiast, Judy Andrews. The ocarina is an unusual instrument known historically for around twelve thousand years and is a type of vessel flute. The English version of the instrument has 4 to 6 holes and is often produced in a pendant style and is easily portable. Megan remembers the first song played on the ocarina was the 'Skye Boat Song'.
She was steeped in traditional music from an early age, as both her parents used to sing and play together as a duo. Her father, Paul, is a leading member of Rumburgh Morris and also sings and plays a concertina which he has designed and constructed himself. Her mother, Tracey, is also a local singer and a fine fiddle player currently playing with Harbour Lights Band amongst other projects.
Megan had many opportunities to develop her musicality. At Primary school she learned to play the descant and treble recorder and at middle and high school moved onto the alto saxophone. She was fully involved in all the school music activities: choirs, a wind and jazz band and school musicals.
Outside school, partly due to family influences, she developed a more traditional musicianship. She taught herself the whistle and used that in a local session that followed the Morris meetings in the Rumburgh Buck. Encouraged by her parents the first song she sang solo was 'Red is the Rose'.