Dave Benford — Musician, Entertainer, Artist in oils and pastels, Actor, Entrepreneur, Family man - husband, dad, grandad, great grandad - as well as the electronics day jobs and running his own business!

Dave, together with Andrew Kendon, formed the Crofters Folk Club - named after where Dave lived - The Croft - in 1964, and by 1967 the Cambridge Crofters folk group had been started, first as a singing group, then as a ceilidh band. Dave's energy, vision and organising ability were driving forces behind the group for over 50 years.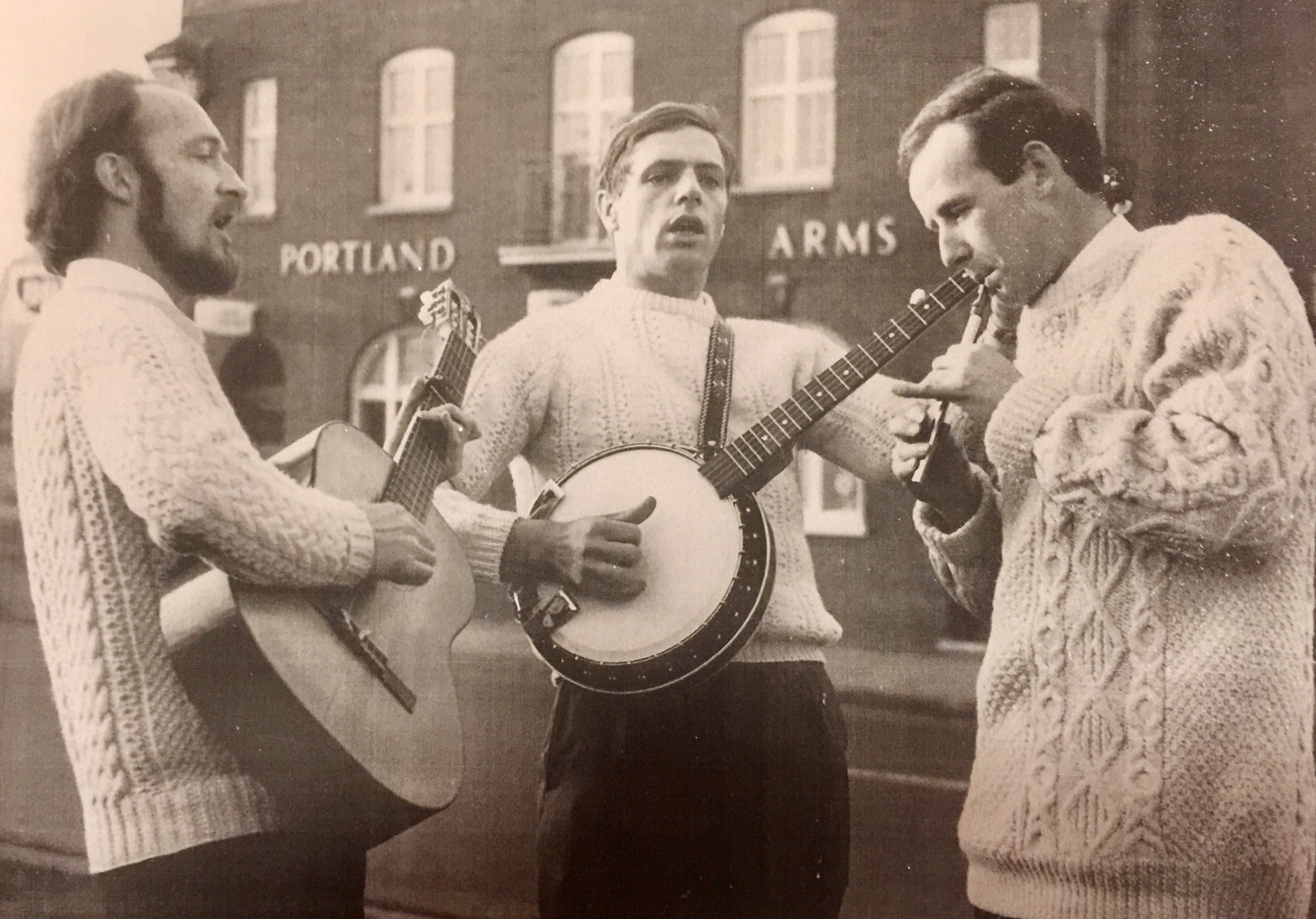 The Cambridge Crofters outside the Portland Arms, Cambridge: Left to Right: Andrew Kendon, Dave Benford, Richard Brading
Dave's singing style was probably best recognised in rousing choruses such as Maggie May and A-roving, but beneath this rabble-rousing exterior lay a gentle, sensitive heart; his renditions of The Oggy Man and The Band Played Waltzing Matilda were always memorable because of the passion Dave put into them.
His sense of the dramatic always showed through his ballad singing, the many concerts he organised, the Days of Dance on King College front lawn and in Fulbourn, and in his calling at ceilidhs. Dave was no mean instrumentalist - be it full drum kit, bodhran, guitar, harmonica, dancing dolls, or, we think, his favourite concertina. Who can forget his Dark Island and Lonesome Boatman?

Dave suffered a first stroke after which he gallantly continued to call at ceilidhs. A second stroke severely restricted him to a wheelchair since he had no movement on his right side. This, he took as a challenge and with remarkable courage, managing to play bodhran and sing at concerts and clubs as well as at home. He sang at home until a few weeks before his death - in this time Amazing Grace was his favourite song.
We, the remaining Crofters, will miss him much, but there is so much to remember from more than 50 years as a singing companion: three records, two cds, radio broadcasts; and a friendship which was deep and fruitful.
The Cambridge Crofters