A new BBC 4 TV Programme - For Folk's Sake: Morris Dancing and Me will be shown on Sunday 31st March at 2.55am and Monday 1st April at 9pm
I have just heard about this programme and hope you see this message before Monday 1st April as, judging from the BBC trailer for the programme (https://www.bbc.co.uk/programmes/p074rfsv ) it looks like it could be worth watching.  It seems to cover a bit of Morris history, the usual speculation about origins (is it called Morris because it sounds like "mores" when pronounced in a Chaucerian fashion?), as well as an insight into the challenge of learning the mysteries of the "one, two three hop" double step.  It raises the question of how to save an ageing generation of Morris dancers from extinction and wonders whether the solution is to encourage people other than men to dance the Morris (no, really, it does!  Imagine, whatever next?).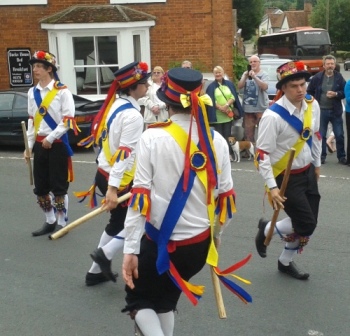 Moulton Morris Men at Thaxted Ring meeting 2014
As the programme goes to Thaxted to interview dancers as well as audience you can imagine how some of the issues are addressed but it also goes to Bampton and meets a young dancer from Moulton Morris.
The BBC press release for the programme goes as follows;