After a short Summer break to play at folk festivals, Dance Folkus returns to resume their regular first Friday English barn dances in Woodbridge Community Hall.
If you haven't been before why not start attending this month. It's fun – a laugh. It's active and energetic. You actually get to hold hands with your partner! There's a live band. Someone (a caller) runs through what you have to do for each dance and keeps reminding you what to do while you dance.

Dance Folkus was originally set up to encourage young people to enjoy social dance This accounts for the low cost of entry offered to students (including college & university attenders) as well as younger family members. At least 70 people usually attend with all ages represented.
Our caller for September will be Norfolk based, Jill Parson. She has called for our dances before and has a range of fun and occasionally tricky dances. Come and dance or even play along with our resident 'Dance Folkus 'Come All Ye' Band led by Harbour Lights.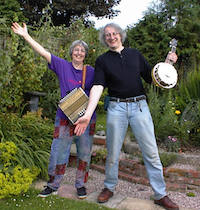 Our 'taster' song spot will be Maggie Moore & Stan Bloor. They hail from Mid-Suffolk and have been performing together for many years playing and singing a wide variety of songs including traditional, music hall and risqué comedy songs. However, their main love are the songs, tunes and poetry of Lancashire, particularly those concerning the industrial revolution and the weaving and spinning industries. Maggie plays Melodeon, Piano Accordion and Hammered Dulcimer whilst Stan plays Guitar Banjo and Ukulele
New dancers wanting to attend can book a discounted ticket by emailing
This email address is being protected from spambots. You need JavaScript enabled to view it.
(no payment in advance) or you can simply come along on the night (£7). Entry for students or children is £3 at the door. Telephone Rob 01473-610951 if you need further information. Visitors to Woodbridge & new first-time dancers are always very welcome to attend our dances at Woodbridge Community Hall in Station Road IP12 4AU starting at 7.30 pm.
2019 sees Chris While and Julie Matthews celebrate 25 years of performing together and, although they have performed here as members of the Albion Band, St Agnes' Fountain and Daphne's Flight, in all of that time they have incredibly never played a public gig as a duo in Suffolk….until now!!
On Saturday 12th October Chris and Julie will be bringing their silver anniversary tour to the Seagull Theatre in Pakefield.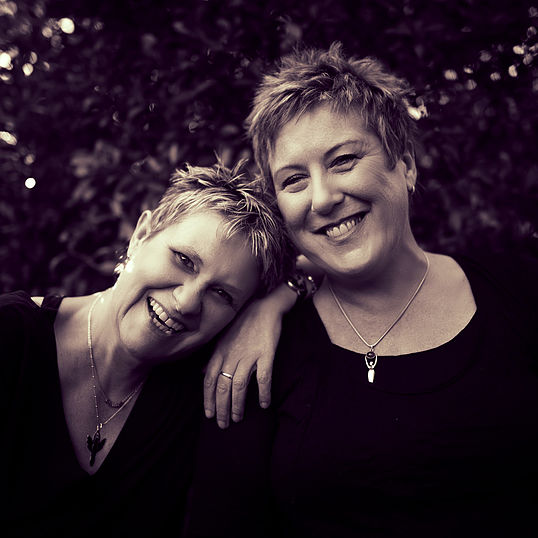 Having headlined the Beccles Acoustic Music Day in 2017, the hugely talented Gilmore & Roberts will be making a very welcome return to north Suffolk this autumn, touring in support of their latest album "A Problem of our Time".
Katriona Gilmore (vocals/fiddle/mandolin) & Jamie Roberts (vocals/guitar) combine great songwriting, astounding musicianship and wonderful harmonies to create a powerful sound. Nominated 3 times at the BBC Radio 2 Folk Awards and winners of the FATEA Award for song of 2018 ("Bone Cupboard").
They've recorded and shared stages with a wide range of famous artists, toured Canada and Europe, played the UK's biggest acoustic festivals, toured with Fairport Convention and won countless accolades for their genre-spanning work.
They will be coming to the Seagull Theatre in Pakefield for the first time on Thursday 3rd October. Tickets are £12 (concessions £10) and are on sale now from the box office (01502 589726) or online at www.theseagull.co.uk/event/gilmore-and-roberts/
'Hot property' – fRoots
See lots of recent videos at https://www.youtube.com/user/gilmoreroberts
Strumming and Dreaming

from Les Ray

The undersigned is delighted and privileged to be involved in running The Bridge, the umbrella group for folk clubs, sessions and open mics around the Cambridge area that we launched in 2017. Last year we were invited to organise some music for the Club Tent on the Saturday afternoon of Cambridge Folk Festival (see my column in issue 144), and I'm please to say we've been invited back this year.
We'll be packing a huge variety of fine music by young and not-so-young performers into our three hours. The promising youngsters include Lizzy Hardingham from Hertfordshire, who won the Royston Folk Club Young Artists Award last year, I Claudia and Josh Robins from Cambridge, the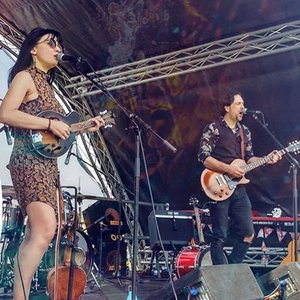 former an exciting, eclectic performer and the latter a fine songwriter with an excellent selection of covers (he can often be seen busking in Cambridge).
Two more experienced acts are When Rivers Meet and 4-piece band DodoBones. When Rivers Meet are a blues and roots rock duo from Essex, and exciting live act who combine well crafted self-penned songs and reworked traditionals. DodoBones, from Hertfordshire, are an acoustic indie band with an ironic-pop edge.
Our 'veteran' this year is Terry Hiscock, a founder member of the band Hunter Muskett, who were formed back in 1969. After two albums they eventually wound up the band in 1974, but reformed in 2010 to record a third album and return to performing. Terry will be performing his own beautifully crafted songs, accompanying his fine voice with skilful guitar playing.
Cambridge 105 Radio are hoping to be broadcasting from the Cherry Hinton site again this year, including a special Festival Edition of my show Strummers and Dreamers, so look out for details on the station's website closer to the time. For performer profiles and photos and website links, check out The Bridge website.
https://www.cambridgebridge.co.uk