The route to Wissett on Wednesday August 1 may have been tricky because of road closures, but the evening itself in the village hall was inspiring.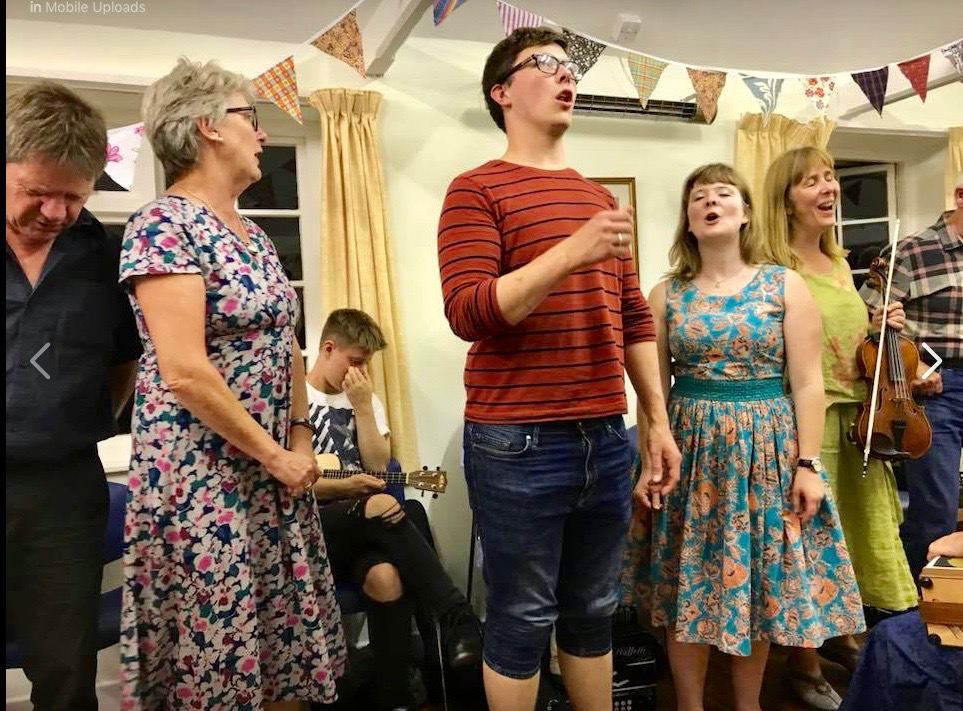 Megan Wisdom, who has been on the local East Anglian folk scene for many years now, lives in Wissett and has just released her first recording: an EP called Tracery, five tracks of traditional songs either unaccompanied or accompanied by a sweet-sounding table harmonium.


Extracts of Megan's songs accompanied by the table harmonium.

The little village hall was packed with Megan's friends, relatives and fellow local musicians all eager to hear the songs on Tracery. When guests arrived they were served coffee, tea or a cold drink by Megan's mum Tracey.  Everyone milled around chatting for half an hour or so before Richard Cove explained how the evening was going to run and introduced Megan who then performed the five songs without amplification. Her voice has developed in strength in recent years and her words were perfectly audible even at the back of the hall. By the time she finished, to rapturous applause, it was almost dark outside.
There was then a break for more drinks and cake, of which there was a plentiful supply, all made by Tracey.  People were also invited to purchase CDs during this break. There followed a joyous session involving musicians from the area who have followed Megan's career with great interest. Megan was persuaded to sing Betsy Bell, accompanied this time by Lou Beal's skillful step-dancing, then Will Podd, sang the great Stan Rogers' song, Barrett's Privateers - everyone in the room seemed to know the chorus and joined in with gusto. More chorus songs followed with a large number of those present standing at the front belting out Sydney Carter's song John Ball and other songs.

It was a great evening which, in my humble opinion, contrasted very favourably with the sometimes stodgy proceedings at traditional folk clubs and festivals. This was a community event celebrating the achievements of one member of that community who is making inroads into the national folk scene but who remains firmly rooted in her native Suffolk.
There is much more about Megan's life and music-making on her website.