THE POTTY MORRIS & FOLK FESTIVAL CELEBRATES IT'S 25TH YEAR
WITH ATTEMPT AT GUINESS WORLD RECORD
 THE 25th POTTY MORRIS AND FOLK FESTIVAL,  SHERINGHAM,  7th & 8th JULY 2018
 As its a special birthday for The Potty festival this year, we are celebrating it with a Guinness World Record attempt. The largest Morris dance. The current record stands at 144 Morris dancers dancing a border dance called Tinners Rabbit, organised by Stone the Crows (Border Morris) in Preston on 5th September 2015. We will also be using the same dance for the attempt. The name of the dance refers to the three hares symbol from the west country. Originating in Devon, the dance is now widely danced throughout the U.K. This is a dance for sets of three, facing inwards in a triangle.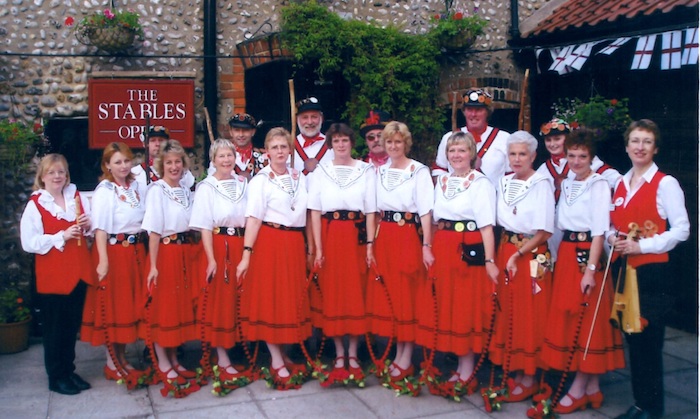 Morris sides involved:
Alive & Kicking,  AnnieMation,  Bakanalia Border Morris,  Barley Brigg,  Beorma Morris,  Bows 'n' Belles, Briggate Morris,  Bury Fair Women's Morris,  Crosskey Clog,  Danegeld,  Dark Horse Morris,  Fenstanton Morris, Fiddlesticks,  Gong Scourers,  Green Dragon Morris,  Holt Ridge Morris,  Hoxon Hundred, Lady Bay Revellers,  Little Egypt,  Loose Women,  Manor Mill Morris,  Peterborough Morris, Pretty Grim,  Rattlejag Morris, Rockingham Rapper,   Rumburgh Morris,  Slack Ma Girdle,  Sutton Masque,  Westrefelda,  Wicket Brood,  Young Miscellany, Kemp's Men and a single dancer from Thaxted Morris
The Morris procession through town will start at 10 am, Saturday 7th July 2018, lead by Sheringham town cryer Andrew Cunningham-Brown. After the procession those attempting the world record will converge at the GWR arena, from the Town Clock to Co-operative Street. When they enter the GWR arena they will be counted in and given wristbands. Once the dance is finish they will be counted out of the arena. Rather than using different musicians with each group, Wicket Brood border morris side musicians, accordion, melodeons, drums, fiddle, recorder, banjo & djembe, will be playing the tune "Not for Joe" at the arena. A P.A. System will broadcast the music and a caller via speakers along the High Street. Each Morris group will have a volunteer to adjudicate the dance, 2 of the volunteers being Sheringham Mayor Madeleine Ashcroft and Deputy Mayor Liz Withington. The World record attempt will be between 10.30 – 11.00 am approx. The dance only takes 6 minutes but there will be a run through before the attempt starts.
All the different sides will then disperse into the town to dance at their allocated spots. 10.45/11 am – 12.45 pm. At 1 – 2 pm, long supporters of the festival The Sheringham Shanty Men will be performing at the arena, Lifeboat Plain. 2 – 5.30 pm more dancing around town and then all together at Lifeboat Plain. We no longer have music on the arena stage on the Saturday evening but have arranged music and song sessions. Friday 6th July and Saturday 7th July evenings 8pm – late at The Robin Hood, Station Road. & a farewell song & tune session at The Lobster in the Garden Sunday 8thJuly 2pm onwards.

Programme

FRIDAY
8 pm – late       Song & tune session - Robin Hood
SATURDAY
10 – 10.30 am  Procession through town
10.30 – 11.00   Guinness World Record attempt.
1 – 2 pm          Sheringham Shanty Men arena stage, Lifeboat Plain
2 – 5.30 pm     Morris dancing around town and then all together at Lifeboat Plain.
8 pm – late     Song and tune session - Robin Hood
SUNDAY
10.30 am – 1.30 pm (approx)  Morris dancing from town clock to seafront. Afternoon at the
arena, Lifeboat Plain.
2 pm onwards  Song and Tune Session in The Lobster garden
The Potty Festival was started by The Lobster Potties Morris dancers in 1993, by Reg Grimes, the then Squire (Chairman), Clive Rayment Foreman (Dance teacher) and Penny Shepherd Bagman (Treasurer), as a way of saying thank you to the sides that had invited the Potties to visit them for a weekend of dance. So the following year in July with Briggate Morris, Belchamp and Old Bull Morris, we set forth on a coach tour of North Norfolk stopping off and dancing at various spots along the way.

The weekend proved such a success that it was decided to hold it again the following year. And so it began. Firstly in a small way inviting one or two more sides and still travelling out and about. Two years later it was decided to make it a static event along the lines of the Rochester Sweeps Festival which we had first been invited to in 1993 and had enjoyed meeting and making new friends there. Each year the festival grows from strength to strength, now having more than 40 morris sides taking part every year
Unfortunately The Lobster Potties no longer have a morris side. During the Festival this year, The Mo will be exhibiting photos and costumes of The Lobster Potties to celebrate the 25th birthday celebrations.  For more information and to see all Morris sides who are participating this year please visit  the festival website.