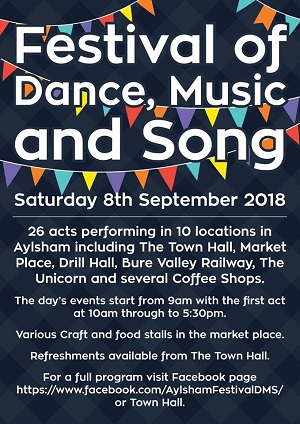 STOP PRESS! Holt Ridge Morris and Aylsham Town Council are pleased to bring you the second AYLSHAM FESTIVAL OF DANCE, MUSIC AND SONG ON 7th AND 8th SEPTEMBER 2018.

Planning for the second Aylsham Festival is now almost complete. Venues and artists are booked, dancers of all different genres are cleaning their dance shoes (or painting their toenails), singers are going through their repertoire and musicians are exercising their fingers all in preparation for another great day in Aylsham!

The event 'sings off' on FRIDAY with a FREE FOLK NIGHT at 8pm in Aylsham Town Hall, NR11 6EL hosted by the one and only Geoff Roberts and his Flying Folk!
On SATURDAY the Market Place in Aylsham comes alive with FREE daytime DANCE EVENTS including Egyptian dance, English Dance, Morris dancing, French traditional dance, Balkan dance and Norfolk Step Dancing and, as if that wasn't enough, Broadland Ukuleles will also be giving a FREE concert.

Artists will be performing in the Conservatory, Biddy's Tearoom and the Unicorn at various times during the day with free concerts outside the Unicorn and the Drill Hall during the afternoon.
A Longsword workshop is to be held in the Drill Hall and there will be a Ukulele workshop in the Library for anyone wanting to learn or even just have a taster.

The Festival will finish with TWO SEPARATE SATURDAY NIGHT CONCERTS in the Town Hall
by local personality and renowned melodeon maestro TONY HALL, 7.30pm.
followed by the supremely talented singer/song writer/guitarist MARTIN SIMPSON, 9pm.

Come along for a great day out! Enjoy the music, song and dance – even participate in the workshops and join us for the evening concerts.
For further information - https://www.facebook.com/AylshamFestivalDMS/
For Concert Tickets - contact Aylsham Town Hall tel: 01263 733354, or purchased online at : https://www.ticketsource.co.uk/aylsham-town-council
TONY HALL, 7.30pm £7.00, and MARTIN SIMPSON, 9pm £20.00 (OR BOTH FOR an excellent £22.50).
Below is A REVIEW OF LAST YEAR'S EVENT to 'whet your whistle'!
Friday 8th and Saturday 9th September 2017 saw a new Folk venture launched by Aylsham Town Council in North East Norfolk - billed as a Morris/Folk Weekend - AYLSHAM FESTIVAL OF DANCE, MUSIC AND SONG will become a regular event in the County's Folk calendar at the end of the summer holidays, after such a successful debut.
Brainchild of Aylsham Town Events Manager, Smudge, & north Norfolk Folk enthusiast, & Holt Ridge Morris Dancer, Brian Antuar, the event launched with a free & well attended Folk Club held in the ideal setting of Aylsham Town Hall at 7.30pm on Friday evening; the Town Hall's rafters rang with rousing renditions of folk music & song from across Gt Britain and Europe, and the session was enjoyed and agreed a great success by all who attended.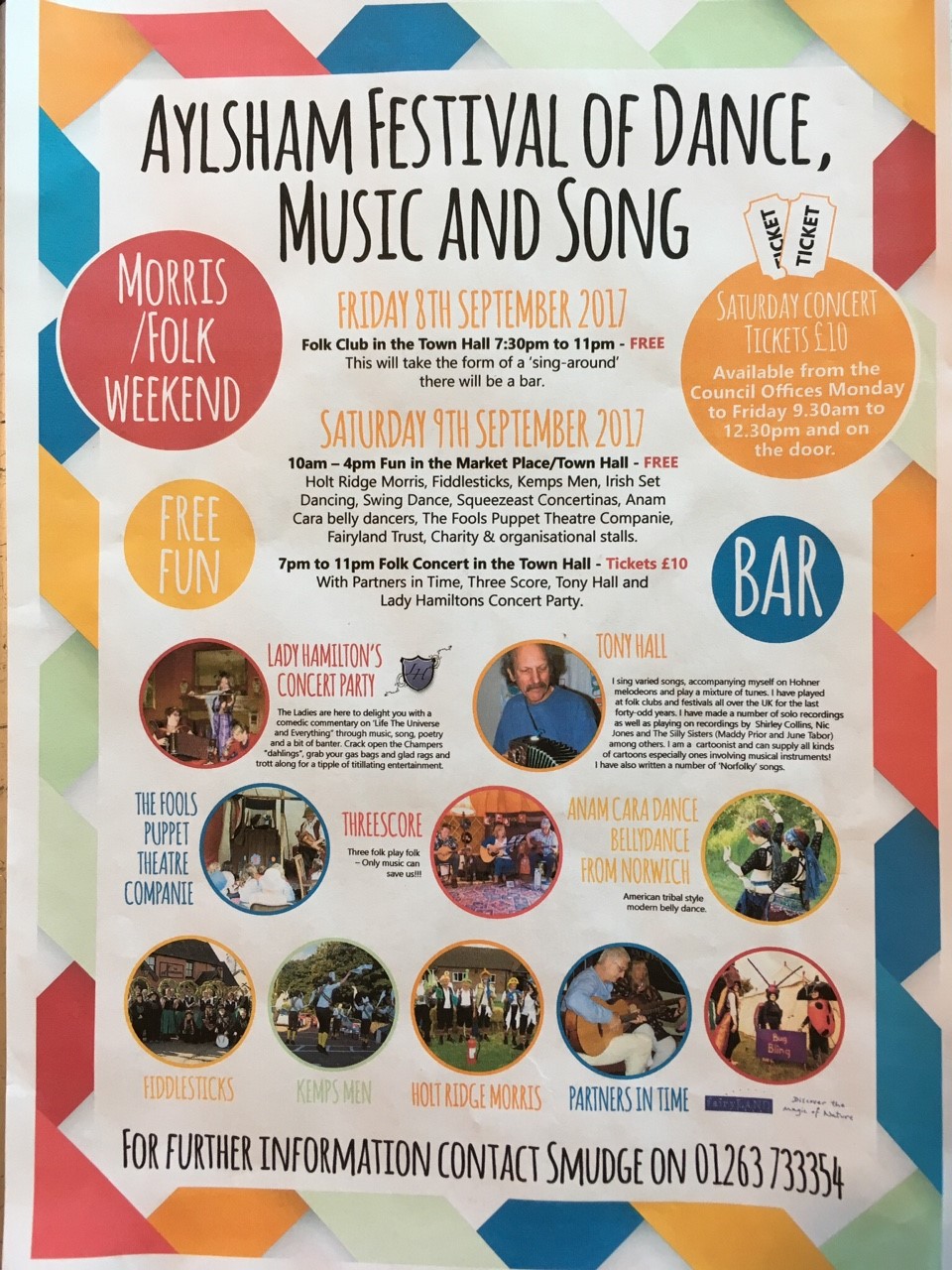 Saturday morning saw a variety of colourful and joyful Folk fun happening in Aylsham market place and the Town Hall, with the weather very much onside, in the morning at least! Those participating brought a kaleidoscope of colour, energy and enthusiasm to the proceedings; Holt Ridge Morris, Fiddlesticks, Kemps Men, Norfolk Step Dancers, Irish Set Dancers, Swing Dancers, Squeezeast Concertinas, Anam Cara Belly Dancers (American tribal style modern belly dancing), along with the Fools Puppet Companie, the Fairyland Trust, Charity and others stalls all contributing, several hardy souls persevering throughout the less clement afternoon rain.
Saturday evening saw the culmination of this new venture with a rousing Folk Concert in the Town Hall. Four contrasting acts participated, three Norfolk based & the third from the Fens. Popular local duo Partners In Time kicked proceedings off with their own delightful mix of guitar and vocals, followed by "three folks playing folk", making a name for themselves on the local and wider folk scene as Threescore, with their own brand of traditional & modern Folk on guitars, bouzouki, mandolin, fiddle, Appalachian dulcimer, concertina & vocals.
Following an interval, local and national Folk hero, accomplished musician and melodeon maestro Tony Hall got the second half off to a great start with lashings of his musical and vocal skill and liberal sprinklings of his wry sense of humour. Chatteris based ladies' trio Lady Hamilton's Concert Party then brought the festival to a fitting close with their unique and comedic commentary on "Life, The Universe and Everything" through song, poetry and a bit of banter", all neatly bound together with their highly accomplished musicianship on fiddle, ukulele, cello, clarinet, saxophone, melodeon and typewriter....yes, even a typewriter!
Congratulations to all who took part in and supported this brave new venture and to all those who helped make it such a resounding success, including those who organised the hall, ran the bar and the raffle and to Chris who mastered the sound so ably in the Town Hall for the performers on Friday and Saturday evenings. But especial congratulations must, of course, go to Smudge and Brian for taking the initiative and being prepared to "give it a go"! We very much look forward to Aylsham Festival of Dance, Music and Song 2018.