You are here:  

Hopping Down in Kent - Old Glory visit the Kent Treacle Mines
Perhaps not as much "hopping" as a Cotswold Morris side might have done but there was certainly plenty of stamping and on this occasion, it was "Stamping the Old Ground", "Nelson's Revenge" and "The Buck" which Old Glory Molly Dancers and Musicians had brought down to Kent. They were the guests of Seven Champions Molly Dancers, famous inhabitants of the Kent Treacle Mines. A strong side of dancers and musicians made the journey although some felt it was a bit too radical to stray outside the natural territories of East Anglia.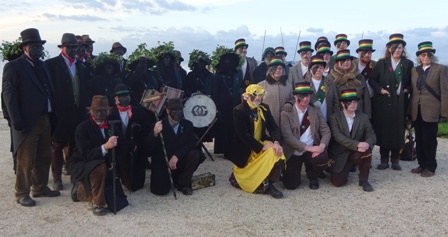 Old Glory and their hosts Seven Champions by the sea in Whitstable
Seven Champions had been to Suffolk in December 2018 and a return trip had been eagerly awaited. It turned out that the Treacle Mines are located in the Whitstable – Faversham area and the first dancing spots were around the harbour in Whitstable. The day was dry and sunny but a cold wind whistled through the docks. A good crowd gathered for the first spot at the so-called Dead Man's Stage and came with us to the Lifeboat Station but later thinned out as dusk approached.
Seven Champs led the way with their strange tales and precise dancing, weaving complex and precise patterns in twos and fours, sixes and eights and sometimes more.
"Strict and Particular" could also be their motto, as it is for Old Glory. Seven Champs marching, stamping style would not disgrace a military parade ground although any Sergeant Major would have been driven crazy by the sudden swivelling turns, eyes left, eyes right, forward march, arms down, arms raised to punch the air with a surly glare but all led by a man/woman dressed in a yellow "pinny" and a mop cap.
The unique and stunning originality of Seven Champions is emphasised as almost every dance is performed to the acapella accompaniment of a woman singer or singers. The songs chosen for the dancers may have no apparent reference to the following dance and can range from well known traditional songs like Byker Hill to something from the 1970s such as Neil Young's environmental anthem, "After the Gold Rush". Their songs also featured the Shaker hymn "Babylon is Fallen" and Sidney Carter's, "John Ball". Most, if not all, of the songs have a radical edge to them which adds a sense of something rebellious, contentious, or illicit to the public performance. The menace is enhanced by the half-face black-up, modified from their original whole-face black-up disguise.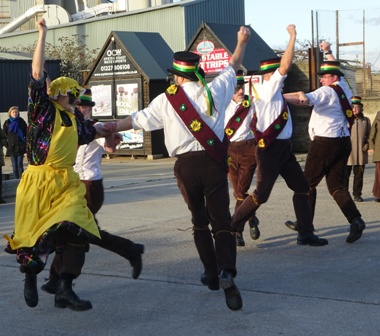 Seven Champions at the Deadman's Stage, Whitstable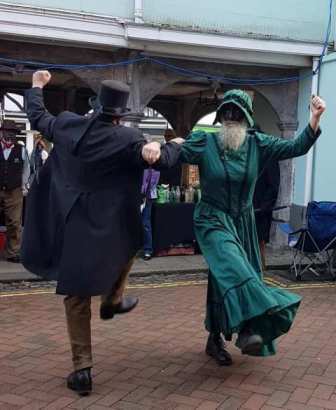 The Lord and Lady on stage in Faversham, photo by Helen Sharp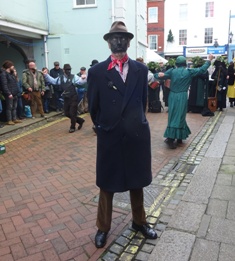 An Old Glory "lurker" on guard
Old Glory have made no such compromise and still proudly wear a full blackface disguise without causing offence; helped I am sure by other aspects of the deception such as the bearded and bonneted Lady and the other dancers wearing the imagined attire of nineteenth-century agricultural labourers.
This seemed to arouse much interest in Kent, perhaps because the male dancers were, as usual, accompanied by black-clad and black-faced women musicians whose faces were further obscured by the ivy garlands on their hats and head-dresses.
Old Glory post guardians or "lurkers", as an audience member called them, to create a stage for the dancers and barrier from the audience. Once the stage is set the dancers, with surly and steely glares, begin the strange ritual of the "Buck". This is clearly a performance, but of what? The audience gave the impression of being thoroughly perplexed by the whole effect and looked on with puzzled expressions while also showing signs of being, ever so slightly, amused.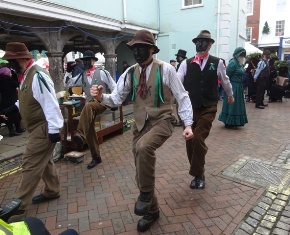 The Waltzer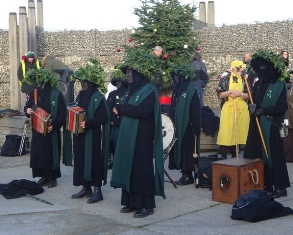 Old Glory Musicians at the Deadman's Stage
The Buck
The weekend progressed on Saturday night to a torch-lit procession into the Red Lion at Badlesmere, near Faversham where we were joined, for only their third dance-out, by a new women's Molly side called Seven Sisters. Although closely linked with the Champs, as demonstrated by their costume, they have also taken inspiration for their dances from the 1980s women's "Urban Molly" side; Paddington Pandemonic Express. The evening ended with an entertaining session inside the pub of playing, dancing and singing including a memorable rapid-fire delivery of The Old Bazaar in Cairo by one of the Seven Champs woman singers.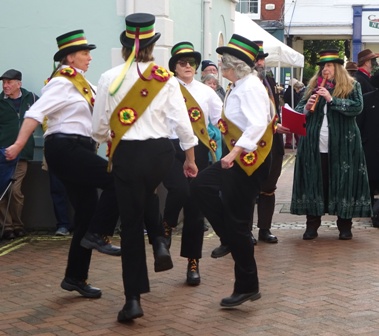 The Seven Sisters also came along to the final dance spot on Sunday at the Bear Inn at Faversham where we danced outside the pub in front of a spectacular market cross and some fine buildings which wouldn't be out of place in Lavenham. Here we had the largest and best audience of the weekend and as the weather was dry and mild many of them stayed around to watch several dances and judging by their generous contributions to the collecting box, they felt they had been well entertained. As this was north Kent on a Sunday there were lots of visitors, many from London, and some who had even made the journey because they'd heard there was going to be some Molly Dancing. Others were not at all sure what they were watching or why we were doing it, which led to questions such as - "Is this Morris dancing"? or "Why do you have black faces"? "What is going on"? Someone else had worked it out and said; "I suppose it's a kind of dance-off". And I suppose it was! And no less fun for that. Thanks to the Champs.

Dave Evans
Mardles Morris correspondent; 9th December 2019