You are here:  

Golden Star seek wanderin' Starlets
In the Golden Star Public House in Norwich about 40 years ago it was thought to be a good idea to form a Cotswold Morris side, and so Golden Star Morris was born. The precise date (and possibly year) are lost in the mists of time/alcohol (delete as appropriate). To celebrate this and to cover most of the possible dates, Golden Star are having a number of events spread over about a year. In June 2020 there will be a weekend at the Tibbenham Greyhound which will include a tour of South Norfolk on the Saturday.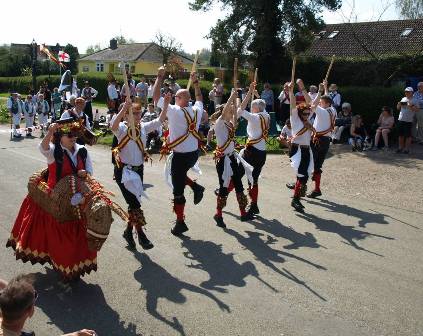 Golden Star (and shadow side), April 2018; St Georges Day celebrations, Hundon
If you have danced, played or offered counselling to the side please join us for as much or as little of the weekend as you wish. The dates are 12 - 14th June. If you would like details of the event please email; gsm40ish.gmail.com
Should you be in contact with other Golden Starlets please let them know about the fun filled future we are planning.
David Crease
Bagman, Golden Star Morris