You are here:  

"Is practice still on tonight – are you going?" - Morris and Covid-19
I would normally be at Morris practice tonight, Monday 16th March, but instead I'm sitting at home (home working?) writing this. As you may be aware today was the day that the Government asked us all to practise "social distancing". A question; "Is practice still on tonight – are you going?" was raised tonight at 6.05pm and the response to a quick email poll was rapid, which was just as well as a decision was needed well before 8pm, especially as some members cycle 10 miles or more to our practice venue. The result of the email poll was pretty unanimous and led to some interesting comments and discoveries.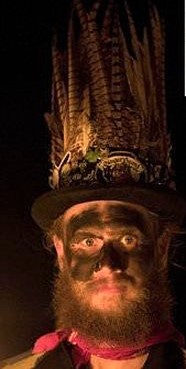 Hey, Guys, Is practice on tonight?
It was agreed that it would be wise to abandon all practices for the rest of the winter season and to make a decision later on when to begin summer dance-outs which are usually outside pubs, which will have few customers until the virus has peaked and passed.
The debate had begun a few days earlier on Friday 13th March when one of the musicians kicked off the discussions and declared that he had already decided "to avoid group contact including the Morris, folk clubs / sessions, events etc". He received a wry, some might say frivolous, initial response and his views were summarised and shared with the rest of the side with a comment that "I fully understand and support the reluctance to be a guinea pig in Mr Johnson's herd immunity development programme". However, it was thought that this was an ultra-cautious and a minority view; it was still assumed by the rest of the side that practice would go ahead on Monday.
However, between 6.05pm and 6.52pm it had been decided that "Practice tonight and our dance programme is suspended until further notice" and instead it was agreed that "We can keep in touch by email and hopefully re-group later in the year, when we are allowed to visit pubs again (if any are still open)". The e-poll revealed that one member was "Stuck in Morocco" and didn't know when he would be allowed out. All I can say to that is that some people have all the luck as others were accepting that they were now in "Lockdown" in Bury St Edmunds.
Creative minds were applied to the question of whether it was safe for future dances to continue with figures such as "Hands Around". It was suggested that the only dance which could safely be danced was "Maid of the Mill, but with three large hankies tied together so that everyone could keep two metres away from their partner".
The side had planned a dance-out date at a residential care home, something which has been a traditional way to start the dancing season, but after learning that Colchester Morris Men had cancelled their visit to a care home we decided to follow suit. The Haughley Hoofers had cancelled a charity booking for 19th March so they could keep themselves and their audience safe. What a difference a week makes; last Thursday they were quite happy to dance amongst W.I. members probably not the youngest audience they could have chosen.
It has been suggested that the whole future of Morris dancing is threatened by this virus as many of us are in the at-risk group of the over 70s. Alternatively, this is where the tradition is passed on to the younger generation and, perhaps, in some ways that will be for the better.
Has your side decided what to do in these circumstances? It would be interesting to hear which sides are still meeting for practices and planning dance-outs. Please reply to This email address is being protected from spambots. You need JavaScript enabled to view it.
Here's hoping to see you all when the coast is clear.
Morris On!
Dave Evans
16th March 2020