A new BBC 4 TV Programme - For Folk's Sake: Morris Dancing and Me will be shown on Sunday 31st March at 2.55am and Monday 1st April at 9pm
I have just heard about this programme and hope you see this message before Monday 1st April as, judging from the BBC trailer for the programme (https://www.bbc.co.uk/programmes/p074rfsv ) it looks like it could be worth watching.  It seems to cover a bit of Morris history, the usual speculation about origins (is it called Morris because it sounds like "mores" when pronounced in a Chaucerian fashion?), as well as an insight into the challenge of learning the mysteries of the "one, two three hop" double step.  It raises the question of how to save an ageing generation of Morris dancers from extinction and wonders whether the solution is to encourage people other than men to dance the Morris (no, really, it does!  Imagine, whatever next?).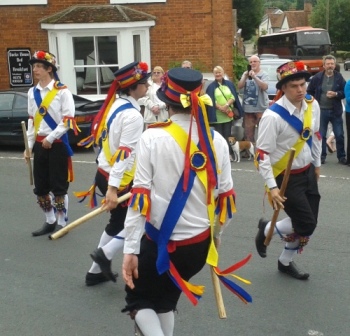 Moulton Morris Men at Thaxted Ring meeting 2014
As the programme goes to Thaxted to interview dancers as well as audience you can imagine how some of the issues are addressed but it also goes to Bampton and meets a young dancer from Moulton Morris.
The BBC press release for the programme goes as follows;
"What's the best way to save the ageing breed of male Morris dancer from extinction? Richard Macer infiltrates the endangered world of bells, beer and beards to discover an unlikely saviour of this ancient masculine tradition in the form of women.
The Morris Ring, the oldest Morris organisation in the country, has voted to admit women dancers for the first time with the hope that its member sides - as the teams are called - might stem the tide of declining numbers. But there are hardliners who believe females will dilute the very essence of what makes men's Morris great. So, is Morris better when danced just by men or are women and mixed sides just as good?
During this journey, Macer is invited to join his local side the Manchester Morris Men, where the average age is over 70. Macer might represent an injection of youth (really, he is over 50 ! editor) to this team but does he have the talent to perform at one of the biggest festivals in the Morris Ring calendar?
What emerges during a long hot summer of folk dance is a bitter conflict as one of Britain's most enduring traditions tries to reconcile itself to the modern world of gender equality. It also becomes a fascinating meditation on the nature of masculinity in a society in thrall to the idea of political correctness. And there is a personal development too for Macer, which sends his journey off in an unexpected direction".
Dave Evans, Mardles Moris On! correspondent