You are here:  

Frederick (Fred) Sanders - an appreciation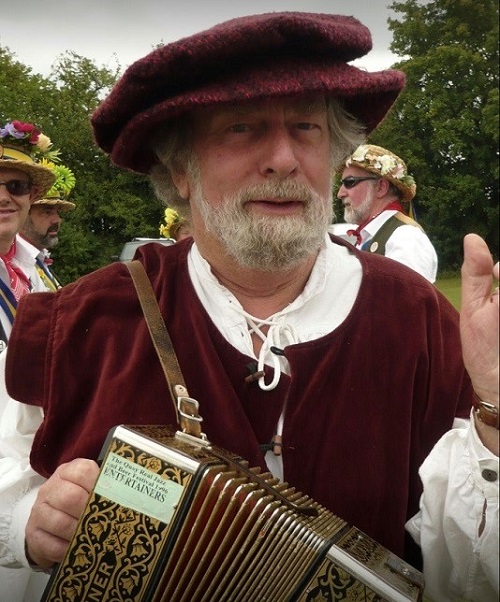 Fred Sanders
Neville Parry, Squire of The Morris Men of Little Egypt has sent the following tribute to Frederick Sanders.
"It is with immense sadness and grief that we announce the passing of our dear friend and Founder of the Morris Men of Little Egypt, Frederick Sanders. Frederick passed away at home on Monday 24th May surrounded by his beloved family.
Frederick had Morris blood running through his veins – he founded The Belchamp Morris Men in the 1970`s whilst living in Belchamp St Paul. After he and the family moved to Glemsford in 1987 a chance encounter led to the vicar of St Mary`s church asking Frederick to form a Morris side for a "one-off" performance at the Church fete in 1988.
Always up for hi-jinks and a challenge he set about forming a novice side with the help of John Aldous (another ex-Belchamp Morris man) – and The Morris Men of Little Egypt were born.
Frederick remained a core member and key musician with our side for the following 33 years. More than this he was a source of infinite inspiration and energy. The enthusiasm for his many ideas and projects knew no bounds – and this passion and love of life, traditions and the Morris was infectious to all around him.
The suddenness of Frederick`s passing had shaken us to the very core and the side came together last night (26th May) to raise a glass to our dear friend and reminisce about the many escapades and adventures we have enjoyed in his company over the years. He truly was one of life`s great characters
Frederick had made many friends in other Morris sides – bonded by a love of music and tradition and I know that you will all join us in our thoughts and condolences for his wife Binkie and daughters Deborah and Charlotte.
We remain totally devastated by his passing – we have lost our Founder, our greatest inspiration, and a dear friend. The world will be a great deal less colourful from now on".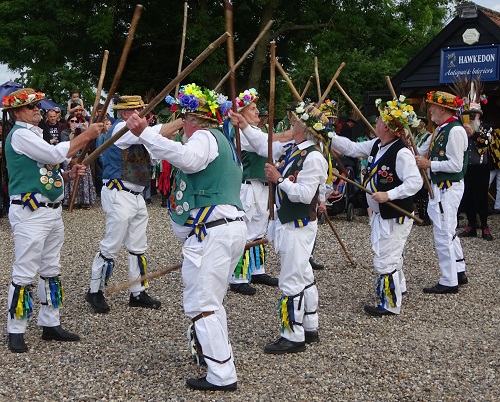 The Morris Men of Little Egypt at their summer solstice event in Hawkedon, 2018
John Aldous ex- Belchamp MM and (with Fred Sanders) co-founder of The Morris Men of Little Egypt has also written about Fred's contribution to the founding of Little Egypt in a memoir "A Morris Man of Little Egypt. Being the full and complete Memoir of John Aldous, Esquire".
John recalls meeting Fred when he joined Belchamp Morris Men and how Fred went about recruiting the original members of a Morris side in Glemsford.
After a year or two "I decided that I would give up Morris dancing (little did I know how wrong I would be). One evening I received a phone call from Fred Sanders asking if I would help him teach some men from the village (Glemsford) to do Morris dancing for the church roof appeal.
(So) on a dark Tuesday night, I went along to the old school where I met this motley bunch of village men. Some had already done a bit of Morris a couple of years ago, the rest were what Fred had either tricked, begged or press-ganged into it.
We managed to get them into shape, well just enough to let them loose on the unsuspecting public. We dance outside the Black Lion on a Saturday and Sunday for the church roof appeal (in July 1988, ed). I say "We" as Fred had managed to get me to perform. We even got the local Rector to dress up with a Morris horse (not too sure whether he quite understood about the pagan myths associated with Morris dancing)". http://www.little-egypt.org.uk/017aldous.html
Fred, just visible, playing for Belchamp Morris Men at Hawkedon Summer Solstice event 2018
That 1988 performance turned out to be a one-off. The side had not yet adopted a permanent name but 4 years later, in 1992, there was another Church fete and someone approached Fred and asked him to revive the Morris Men. Fred and John again managed to recruit a side and this time after a meeting in the Black Lion it was agreed that it would be great to carry on and The Morris Men of Little Egypt were born.
Before founding Little Egypt Fred had learnt his dancing with Thaxted Morris Men and had previously founded a side in Belchamp St Paul. I think I had probably seen him dance in 1977 at an early performance of the original side he created, then called Belchamp St Paul Morris Men. I can date this fairly precisely because it was about the time when I had just started dancing with Hageneth. Hageneth went on to dance with Belchamp for several years
Gill and I were travelling back across country from Stansted airport to Wickhambrook and came across a village fete in Steeple Bumpstead. A Morris side were performing and we decided to stop and watch. We discovered that the men were from the village of Belchamp St Paul and all lived in the village which, at that time, was required. They danced Cotswold and wore waistcoats with a design on the back that reflected their occupation. The images were as "agricultural" as the dancing. Fred had not had long to get the men ready for the performance and at that time they were pretty terrible dancers and were bumping into each other and laughing as they danced but were not in the least embarrassed by this and were thoroughly enjoying themselves and entertaining their families and the crowd. Cecil Sharp would not have been impressed but they went down well with the audience.

That spirit of including anyone who was brave enough to dance and perform in public while wearing a silly costume generated a sense of enjoyment for the dancers and the audience. You could say that it was a true Olympic spirit - it was the taking part that was important, not the excellence of the performance. The ability to entertain continued with Little Egypt and that was the spirit of the Fred that I later got to know at the St George's Day celebrations in Hundon and also at the Little Egypt solstice events in Hawkedon.
Fred was a lovely man and always good for a cheerful and thoughtful word and we often ended up having a chuckle. Fred not only passed on his enthusiasm for the Morris to the men who joined him at Belchamp and Glemsford but also to his daughter and grand-daughter who took up the Morris with Bury Fair.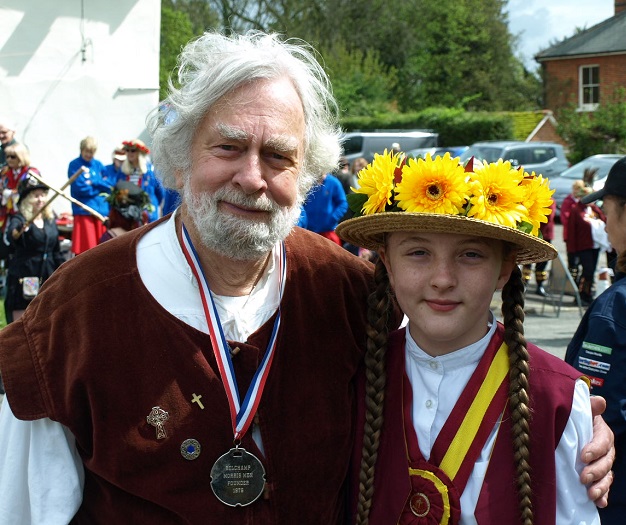 Fred with grand-daughter Lily at the St George's Day celebrations in Hundon 2019 Fred is proudly wearing a medal that says "Belchamp Morris Men Founder 1976"
David Evans June 2021