A WINTER UNION – Canopy Theatre, Beccles 10th December 2019
A cold, wet and very windy night did not deter the audience from venturing out to see this wonderful seasonal show at the Canopy Theatre in Hungate Church, Beccles and they were certainly glad they made the effort.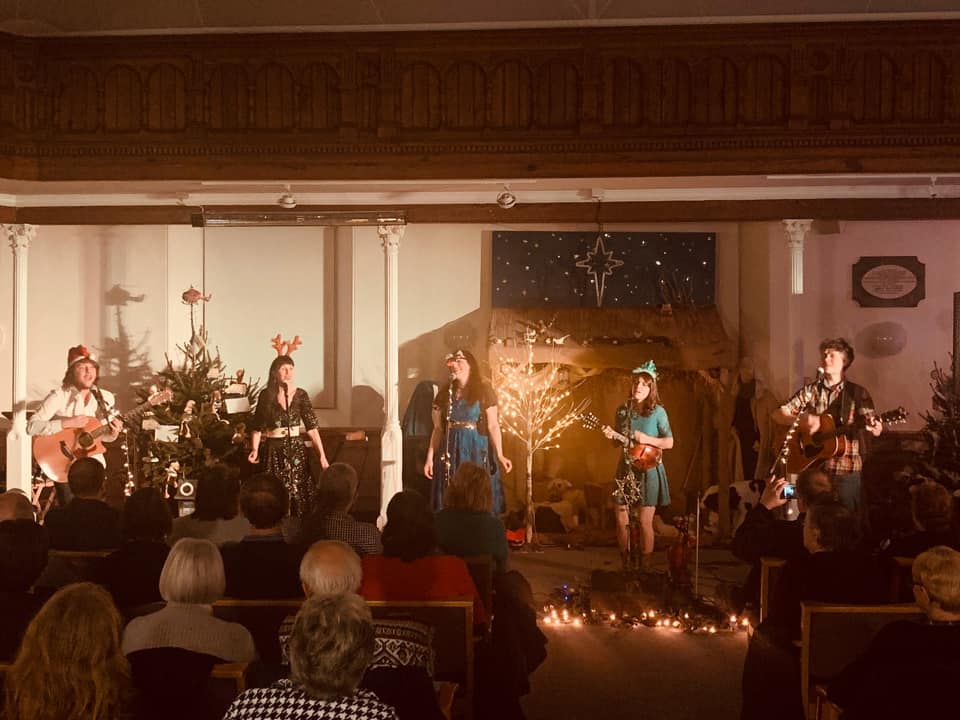 The church setting (complete on this occasion with Christmas Trees - left in place after the Tree Festival the previous weekend – and a life-size stable set complete with all the relevant figures) was a brilliant backdrop for the exceptional performance given by Ben Savage (guitar, dobro & vocals), Hannah Sanders (guitar, dulcimer & vocals), Jade Rhiannon (vocals & shruti box), Katriona Gilmore (fiddle, mandolin & vocals) and Jamie Roberts (guitar & vocals).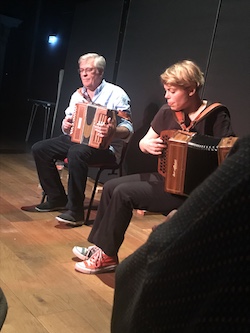 Blowzabella's Paul James has been a promoter of European performers since the days of the now defunct Forest Gate pub Eagle and Child in the 1980s, where we saw concerts by Tre Martelli, La Ciapa Rusa and Emmanuel Pariselle and Katherine Bersoux. A couple of years ago Paul brought Belgian/French duo Anne Niepold (melodeon) and Gregory Jolivet (hurdy gurdy) to, among other places, Wetherden Village Hall. This month he has organised a short tour for Anne with Italian melodeonist Riccardo Tesi. I use the word melodeon here as this is the recognisable name for their instrument in our area, however, the French term for the instrument is accordion diatonic and in Italian organetto. We caught them at Diss Corn Hall on 10th October.
Gill and I have been going to FolkEast from the start which is now 7 years ago. We've watched it recover and slowly grow from those very small beginnings at Somerleyton Hall near Lowestoft. That first year had the smallest audience but the biggest and best line-up. It was probably inevitable that for the first year there would be a modest audience despite an amazing collection of all the brightest stars of the folk world at the time, including Bellowhead, Lau, Liza Carthy, Peatbog Fairies and many more. Sadly the line-up was not enough for FolkEast to compete with 2 other festivals that bank-holiday weekend. Towersey and Shrewsbury Festivals had been well established at that time of year. We went to Towersey a few times before FolkEast started and this year we thought we'd have a change and round off a brief holiday (wet) in Wales with a trip to discover the delights of the Shrewsbury Festival.

As FolkEast regulars we were shocked by the scale of Shrewsbury Festival based at the very flat and featureless agricultural showground on the edge of the town. Perfect for camping you might think but the campsite is incredibly crowded compared to FolkEast. Over 6000 fans were anticipated; do FolkEast get half that number? I doubt it. A large number of fans and no outside performance areas mean you need some enormous marquees as well as several large ones. Large marquees mean that the music needs to be VERY LOUD to fill the space. This can be so loud that ear-defenders are needed (some might say even if you are outside the tent).
Read more: Reflections on FolkEast; from Shrewsbury Festival 2019
The following are impressions of this year's Folk East Festival.
Walking onto the FolkEast site from the 'Morristown' campsite was a pleasure and source of excitement and anticipation to me. Every year, as it's character builds, the site is becoming a charming and beguiling mixture of old and new. Familiar stalls in different places, new stalls and tents to explore and stunning use of sculpture, colour, flags and lights to create an atmosphere that is deeply redolent of the Albion Fairs, but in a more businesslike way. At night it looked magical and I got drawn for some time into into the eerie but very effective light display in the trees around the Soapbox Stage.
So the setting was perfect, there was a good mix of acts to catch up with once the Morris day was over and I happily roamed between the Moot Hall, Dance Tent, Sunset Stage and the Soapbox events. Sometimes I was on my own, other times not, it didn't really seem to matter.
Blair Dunlop, Calan Band, the Pancakes, John Spiers, and various poets were all highlights for me, but there were many other moments too when I just stopped and enjoyed a tune or a song somewhere.
A lovely weekend despite odd outbreaks of weather, it didn't spoil anything for me and it is good to know that we now have 2020 to look forward to. [J.P.]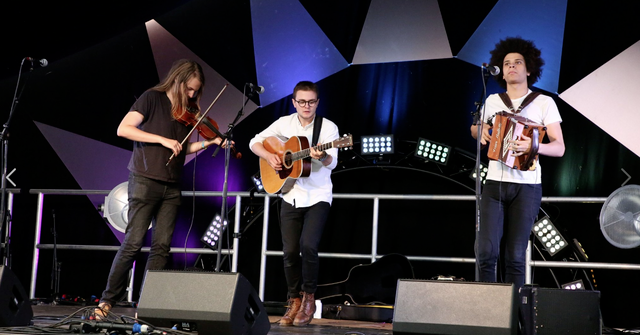 Granny's Attic