STEVE TILSTON AND JEZ LOWE
Seagull Theatre, Pakefield – Saturday 24 November 2018
An intimate performance by two of the UK's finest songwriters.
Steve Tilston and Jez Lowe – both known across the globe in their own right as brilliant writers, singers and instrumentalists – were first paired together while on a tour of the USA a number of years ago.
They were pleasantly surprised to find how easily their styles of playing worked together and complemented each other's songs, so they decided that they would continue the collaboration back in the UK.
Both of them are so busy with their own careers (and in Jez's case with many other collaborative ventures) that it took until 2016 to record their debut CD together.
It was well worth the wait, however, as "The Janus Game", full of great new original joint
Read more: Steve Tilston & Jez Lowe at The Seagull Theatre
Les Ray, who writes a regular column for Unicorn magazine, has agreed to become our Cambridgeshire correspondent. In practice this means he will write reviews of relevant events and CDs. We will also share the column he writes for Unicorn. Les also presents Strummers and Dreamers, a fortnightly folk programme broadcast fortnightly. See the foot of his first contribution for broadcasting details.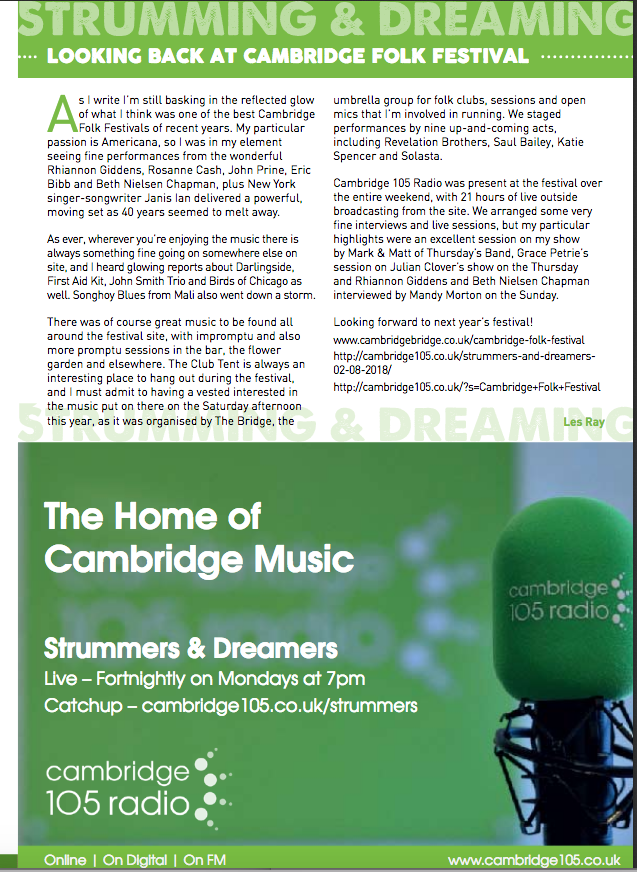 Two Noble Kinsmen  Shakespeare and Fletcher  Globe Theatre, London  (until 30/06/18)
music by Eliza Carthy
Review by Jonathan Seath   

This light, late Jacobean romance was first published in 1634 and is attributed to both John Fletcher and William Shakespeare.  The normally complex text has been carefully edited to highlight the major plot: in true Shakespearean style two friends fall for the same woman and decide to resolve things with a duel, only for a twist of fate to result in the victor being fatally thrown from his horse, leaving the loser to marry his girl. 
Inspired by the play's Morris language and references, The Two Noble Kinsmen is set in pastoral 'Merrie England' and brought to life with original music composed by Eliza Carthy, with dance choreographed by Ewan Wardrop. A walking group of musicians (including James Delarre from Mawkin on fiddle) supports the action and is the band for a range of exciting dances including clogging, stick dancing and high energy routines.
The costumes and choreography are fabulous and the open air, closeness of the action and acoustic music result in a marvellous spectacle with a modern but always strong, traditional feel. The songs naturally support the action and the final 'farewell' song from all the cast and musicians on stage was particularly memorable.
Unfortunately the run is quite short but highly recommended if you can get tickets. If you are prepared to promenade, prices are competitive. This is a new venture for Eliza and you can hear her talking more about the project below. Apparently, The Globe have filmed the show and will be selling DVDs in their shop soon.  There are no other plans at this time to record.
BECCLES ACOUSTIC MUSIC DAY
Canopy Theatre, Hungate – Saturday 28 April 2018
An intimate indoor mini – festival with great sound and a good vibe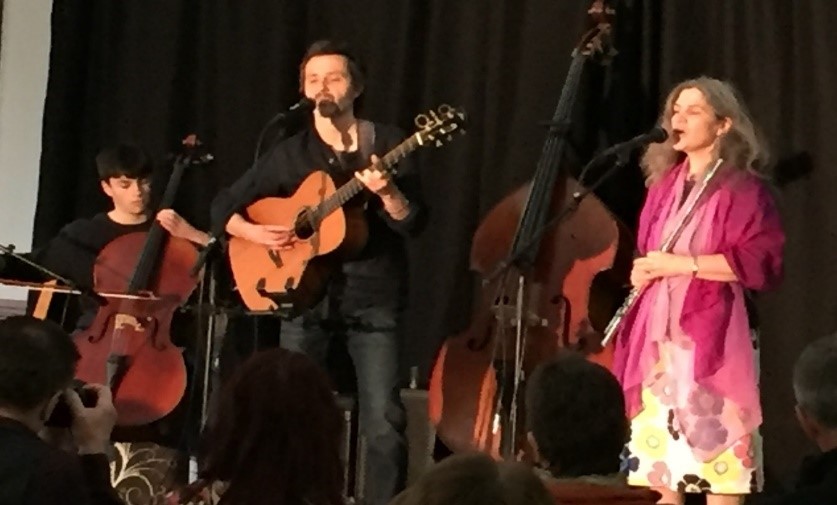 On Sunday March 4th my band Rosewood played at the famous folk music pub the Blaxhall Ship. A jolly time was had by all including the band. Had the gig been an earlier time during the last week I doubt we would have been able to get there in the snow and blizzard conditions we all had to face. But that day the sun had been out and most of the Suffolk snow had melted and been replaced by floods. Travelling to Blaxhall from Hadleigh reminded me of another occasion, 9th December 2017, when we tried to do the same but then we failed to arrive at our destination and the gig had to be cancelled. We had been travelling down from Norfolk encountering more and more snow as the A12 wound on and just before Woodbridge we came to a frozen standstill. That's when we phoned the pub and they said the roads were really bad there and best not to try so we limped home.