You are here:  

Riccardo Tesi and Anne Niepold at Diss Corn Hall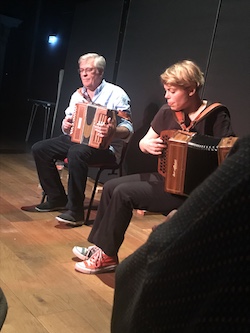 Blowzabella's Paul James has been a promoter of European performers since the days of the now defunct Forest Gate pub Eagle and Child in the 1980s, where we saw concerts by Tre Martelli, La Ciapa Rusa and Emmanuel Pariselle and Katherine Bersoux. A couple of years ago Paul brought Belgian/French duo Anne Niepold (melodeon) and Gregory Jolivet (hurdy gurdy) to, among other places, Wetherden Village Hall. This month he has organised a short tour for Anne with Italian melodeonist Riccardo Tesi. I use the word melodeon here as this is the recognisable name for their instrument in our area, however, the French term for the instrument is accordion diatonic and in Italian organetto. We caught them at Diss Corn Hall on 10th October.
The concert was organised so that each performer plays solo for 45 minutes followed by ten minutes where they play together. This enables each one to showcase their particular skills and composition styles which are entirely different. Riccardo, the elder maestro, sits firmly in his chair while playing deft melodies with imaginative accompanying chords. He dedicates diverse compositions to the Italians' rite-of-passage Fiat 500, the Sirocco winds of southern Italy and pays homage to Jethro Tull's Ian Anderson and the late hurdy gurdy player Pierrre Imbert. Paul James joins him on a jazzy two-time bourrée on his curved soprano sax.
Anne is flamboyant; sitting, standing dancing, grimacing as she plays, pulling the bellows to their furthest extent, demonstrating a style hauled from classical and jazz influences and study, extolling the delights of gin and tonic, bouncy castles and tango, all inspiration for her music. Finally she has us all humming a riff while she blows on a plastic bird water whistle as she leaves the room. Riccardo and Anne return together and play a couple of tunes, responding to calls of 'more' with a blistering duet of Piaf's La Foule finishing a concert which was a stunning display of visual and aural virtuosity. by Val Haines