You are here:  

The Zoë Wren Trio
Review by Simon Haines
The Zoë Wren Trio - Colchester Arts Centre Monday 31 October
We booked Zoë Wren solo for Hadleigh Folk and Acoustic Music Nights two or three years ago. It was clear immediately that here was a consummate musician, songwriter and performer with a repertoire of great songs - mostly her own, but with a sprinkling of some from the tradition and a few from other songwriters she admires. Earlier this year, Zoë came to the club again, this time with Jasmine Watkiss as the duo Roswell. The repertoire was different, but again the musicianship from Zoë and Jasmine was superb. At Colchester Arts Centre on Halloween night, Zoë was accompanied by Jonny Wickham on double bass and David Delarre on mandolin & guitar. For the majority of their set, they played as a trio but from time to time Zoë performed solo. This varied pattern worked very well, her accompanists never overshadowing Zoë's voice or her delicate, tasteful guitar playing. On this occasion, Colchester Arts Centre, which is still recovering from pandemic-related audience fall-off, was full. Many of the audience might not have heard of Zoë, but it didn't take long for them to warm to her friendly, light-hearted introductions or to appreciate what folk club organiser Elaine Barker described as "her amazing talent".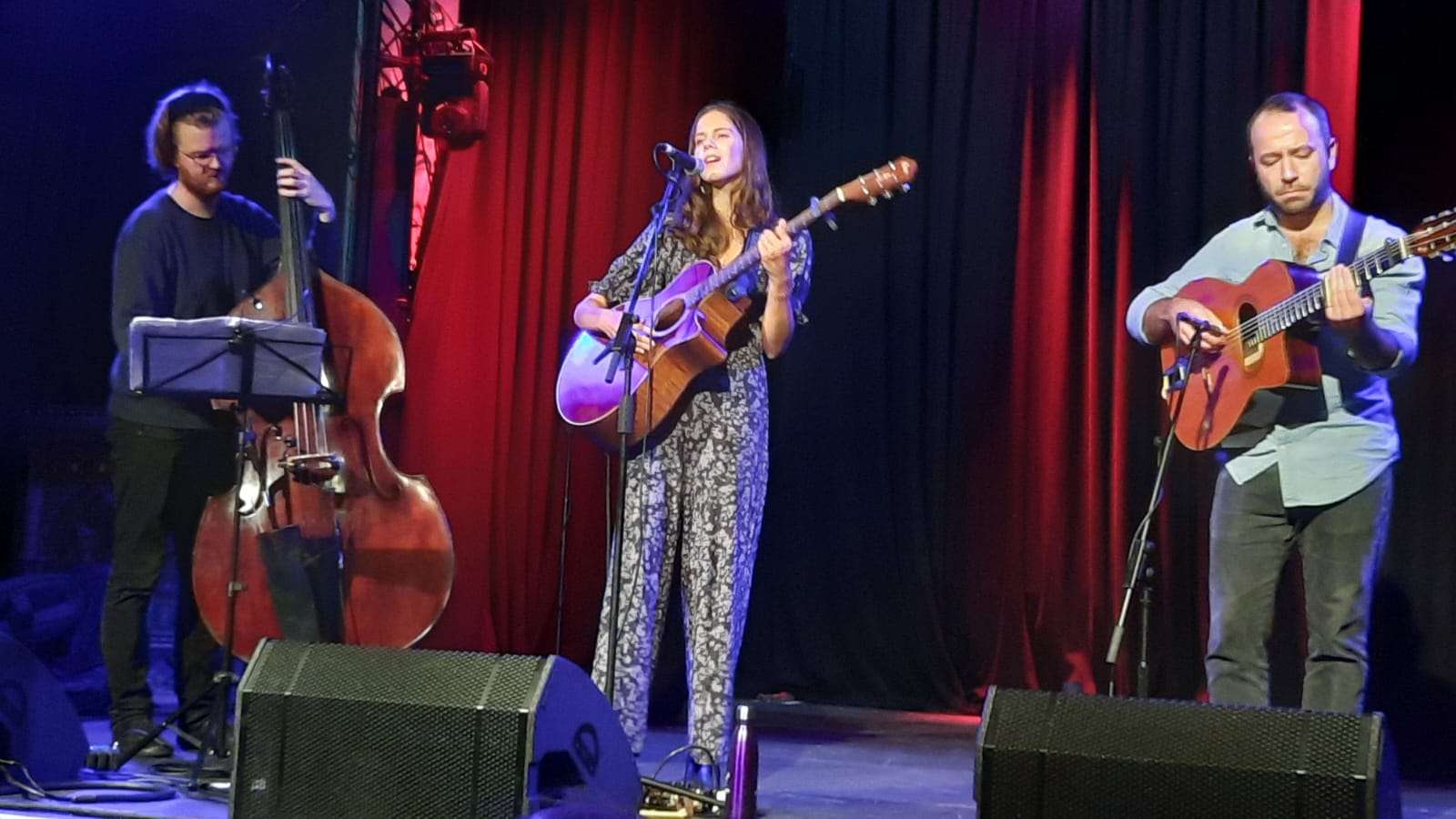 Zoë's set included several songs from her excellent debut album Reckless River (reviewed in Mardles when it was released –https://mardles.org/reviews/cds/452-reckless-river-album-by-zoe-wren). Among my favourites of these were Cecilia, a song about Zoë's Slovene great-grandmother whose ambition, when young, was to become a nun, but who settled for living life as a good person and went on to have children. It has a beautiful melody and is an example of a song which could have its roots in the tradition but which sounds thoroughly contemporary. In a similar folk/pop style - a new term should be coined for songs like this - were London Town, the story of miscellaneous characters travelling home on a late-night train or bus. She's a Highwayman is Zoë's twist on the folk song The Female Highwayman, where a highwayman's woman succeeds in playing her husband at his own game and then decides to continue life on the road rather than returning to being a stay-at-home wife. Zoë also sang a few songs which had emerged from her time as a busker on the London Underground. Ring in your pocket is her imagined explanation for why a young man threw an engagement ring into her busker's collection box and then walked off. She suggests that his proposal was turned down, leaving him broken-hearted - with a hole in his heart; by throwing the unwanted ring away and encouraged by a smile from the busker, he is starting a new life with hope in his heart. Not all folk songs are depressing!! Don't touch my guitar is a warning to admirers who might be tempted to interfere with Zoë's equipment while she is busking. She warns any such fools that she "knows kung fu". Welcome here is Zoë's attempt to counter the unfriendly treatment by passers-of London's homeless and rough sleepers who feel unwelcome; again Zoë's message is one of kindness, optimism and hope.
The first half of the evening ended with the traditional Let no man steal your thyme, which Zoë explains owes much to Pentangle's arrangement of the song which she heard played at home when growing up. The up-tempo Little Sadie is a twentieth century American ballad in which a man shoots his woman, is apprehended, taken before the judge and jailed - I'm not sure we find out how the story ends. Jacob's Dream, written by John Pennell / Julie Lee is a gentle Bluegrass song Zoë got from the singing of Alison Krauss. It tells the story of two boys who were lost in a dense forest area of Pennsylvania and who were found – too late, after a man called Jacob had a dream showing him where they could be found. Is there a connection here with the English traditional song, from the Copper family repertoire: Babes in the Wood?
At the end of the concert, the audience called for more and were treated to Zoe's version of one of her heroine's songs: Joni Mitchell's Big Yellow Taxi. As might be expected, many of the Colchester audience joined in enthusiastically. From the number of CDs and other merch she sold there is no doubt that Zoë made new fans on this Halloween Night.
Though Zoë herself didn't mention this, she has also made some great videos, many of which are on her website https://www.zoewren.com/videos. One that isn't on this page is her latest called Vapour, which has had 10k views on YouTube in the last three months. It was inspired by the true story of WWII spy Jeannie Rousseau, who worked as an interpreter in German occupied France. Underestimated because she was a young woman, she used her age to her advantage, charming the German officers and tricking them into revealing information and showing her documents, which she memorised and passed on.


Zoë is currently travelling from Switzerland, where she lives, to the UK for live gigs. In Switzerland she spends much of her time on Twitch, an interactive live streaming service where she has over 30k followers. So if you'd like to see more of Zoë live – visit TWITCH
As you will probably have gathered by now, I really rate Zoë and am convinced she will progress in the world of music as far as she chooses to go. In conclusion, I can only agree with Elaine Barker's assessment: "She is an amazing talent."

You can browse and buy Zoë's recordings and other merch on her BANDCAMP site.