You are here:  

Folk Orchestra Workshop with Jo Freya
Folk Orchestra Workshop with Jo Freya, November 12 (Luke's Church Centre, Aylsham Rd, Norwich)
Review by Simon Haines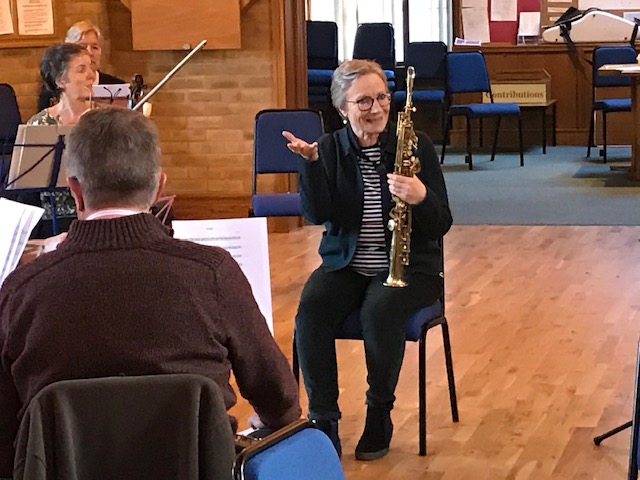 This workshop was the result of a second collaboration between Mardles.org and 'Vintage Squeeze', a group of musicians based in Norwich. The theme of the day was playing together as an orchestra of folk musicians. The workshop was led by Jo Freya - a top-ranking multi-instrumentalist and experienced tutor. For many years Jo has been a member of The Old Swan Band and Blowzabella. She is now also a member of Narthen and Moirai. Find out more about Jo HERE
Jo provided the notation for four tunes in advance of the workshop – these included melodies, chords and occasionally harmonies. Typical folk keys were chosen: D, C (Am) All instruments were welcome and on the day there were melodeons, violins, recorders, flutes, concertinas, and bagpipes. Jo herself demonstrated the tunes on her soprano saxophone. She emphasised right at the beginning that ideas for arrangements from participants would be welcome and indeed expected. As the day progressed, people grew in confidence and more and more ideas were suggested.
During the morning session (10.00-12.30) we worked on two tunes: Polka Piquée, a traditional French dance tune, and Neylis, one of Jo's own compositions. We began the afternoon session (2.00-4.00) with a little more work on Neylis and then moved on to a third tune: Stan Treacy's Very Particular Waltz and finished the day with a performance of the three tunes we had played during the day.

Learning each tune part by part was achieved very quickly as all thirty participants (except me!) played from the notation Jo had provided. Once this was done, Jo asked for ideas about how the music could be arranged for our "orchestra". She suggested these might include harmonies, ways of building the tunes gradually, and devising interesting beginnings and endings. Jo encouraged participants to come up with ideas and pointed out that no suggestions would or should be considered wrong. This inclusivity encouraged participants to express their ideas, and they did this with increasing confidence and creativity as the day progressed.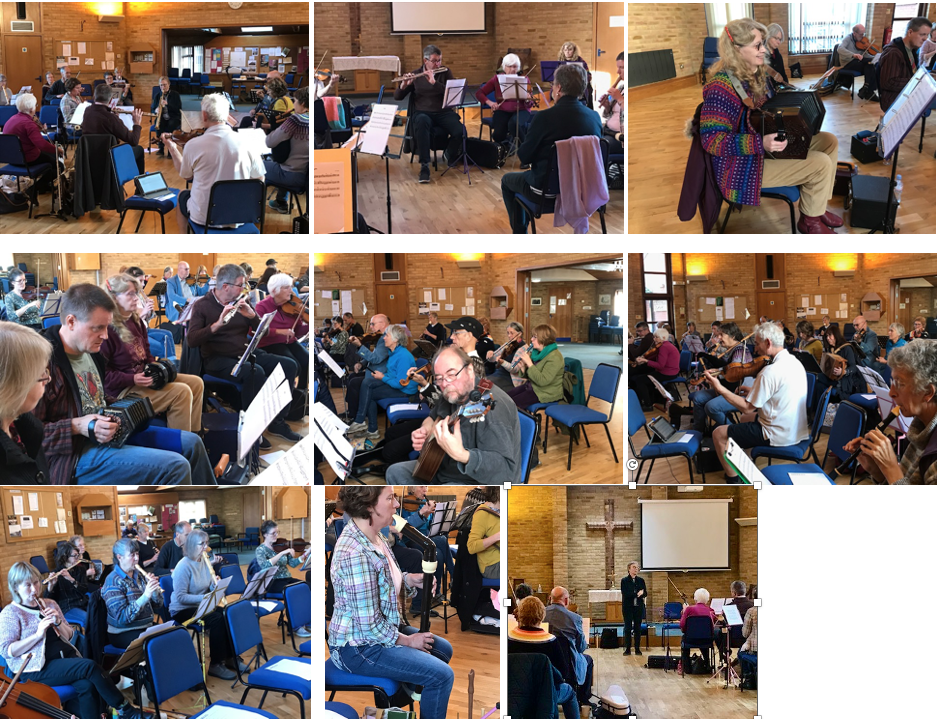 It was evident that participants had enjoyed the day and found it very worthwhile. Those who do not play regularly with others found it particularly rewarding. The way Jo ran the day was most impressive. She continually said things like "Let's try this." "How about the melodeons playing just their left hands at the beginning of the second time through the tune". Occasionally commenting on an idea of her own she had tried, she'd say " No, I don't think that works very well." I imagine participants were impressed by Jo's own proficiency as a professional musician combined with her casual approach to musical formalities – characteristics of an exceptional folk musician.


The notation for the three tunes we worked on can be found here:

Polka Piquée

Neylis