You are here:  

A Winter Union Review
A WINTER UNION – Canopy Theatre, Beccles 10th December 2019
A cold, wet and very windy night did not deter the audience from venturing out to see this wonderful seasonal show at the Canopy Theatre in Hungate Church, Beccles and they were certainly glad they made the effort.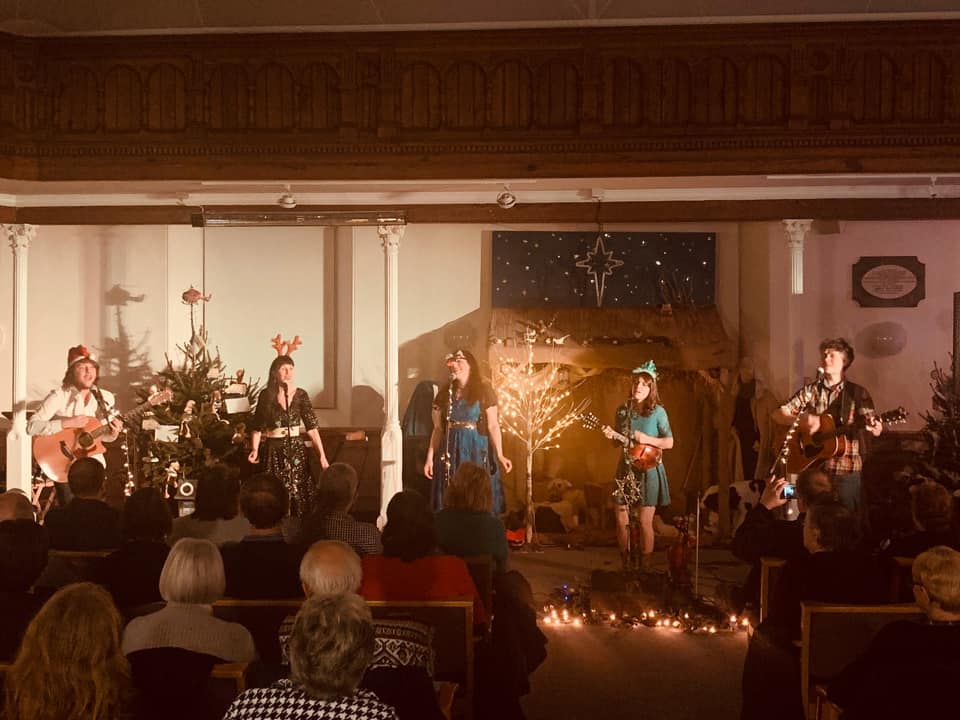 The church setting (complete on this occasion with Christmas Trees - left in place after the Tree Festival the previous weekend – and a life-size stable set complete with all the relevant figures) was a brilliant backdrop for the exceptional performance given by Ben Savage (guitar, dobro & vocals), Hannah Sanders (guitar, dulcimer & vocals), Jade Rhiannon (vocals & shruti box), Katriona Gilmore (fiddle, mandolin & vocals) and Jamie Roberts (guitar & vocals).
The first thing to say about the performance is that the sound was incredible; the natural acoustics here are just about the best of any venue I've been to in East Anglia and this was even further enhanced by the work of sound engineer Pete Ord, working with a hired PA that he'd never used before. So good in fact that Ben Savage had to be prised from the stage after the sound check because he was enjoying the sound of his dobro so much!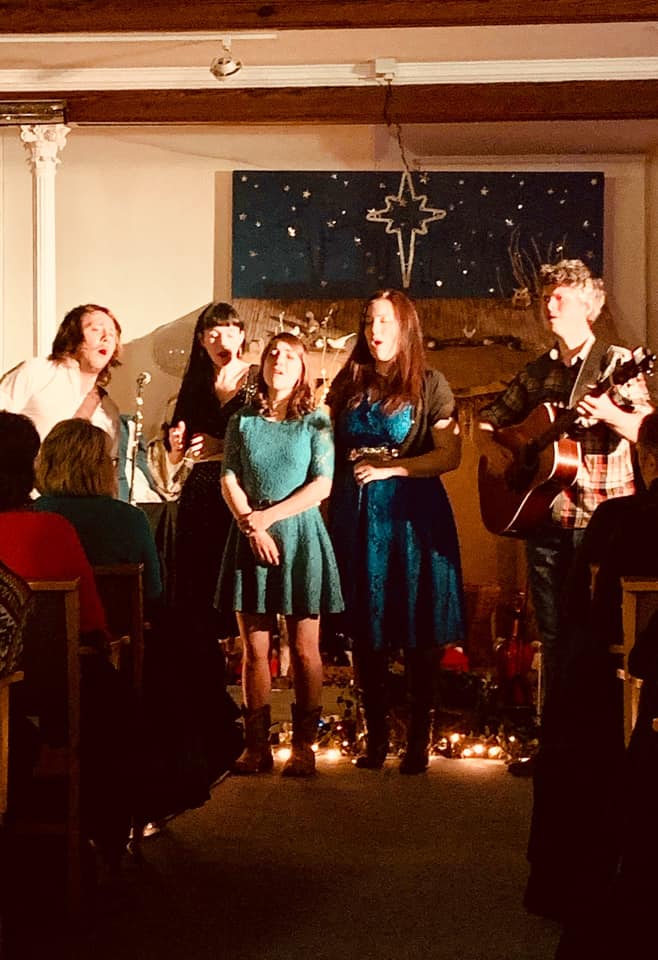 They began with Ben singing "Our Wassail" apparently inspired by his love of cider. There were many carefully arranged versions of traditional carols – including "We Three Kings", "The Holly & The Ivy" and "Good King Wenceslas" -all with brilliant harmonies and a dobro led instrumental version of "In The Bleak Midwinter". Other traditional songs were Hannah's take on "All Bells in Paradise" and Jamie's rendition of "The King" to which was added a great instrumental version of "God Rest Ye Merry Gentlemen".
There were also covers of Joni Mitchell's "River" and Robb Johnson's "Boxing Day" and original songs including Katriona's "Every Midnight Mile" and Rhiannon's "Elizabeth Woodcock"
They finished with a rousing version of The Band's "Christmas Must Be Tonight" and encored with an exquisite accapella version of "Raise A Candle" and a lively "I Saw Three Ships". If you can't catch them on the rest of the tour, do get hold of a copy of the new live CD recorded in 2018 and featuring many of the songs played at this excellent gig.
Martin Lovett
Photos by Pete Ord