You are here:  

Reflections on FolkEast; from Shrewsbury Festival 2019
Gill and I have been going to FolkEast from the start which is now 7 years ago. We've watched it recover and slowly grow from those very small beginnings at Somerleyton Hall near Lowestoft. That first year had the smallest audience but the biggest and best line-up. It was probably inevitable that for the first year there would be a modest audience despite an amazing collection of all the brightest stars of the folk world at the time, including Bellowhead, Lau, Liza Carthy, Peatbog Fairies and many more. Sadly the line-up was not enough for FolkEast to compete with 2 other festivals that bank-holiday weekend. Towersey and Shrewsbury Festivals had been well established at that time of year. We went to Towersey a few times before FolkEast started and this year we thought we'd have a change and round off a brief holiday (wet) in Wales with a trip to discover the delights of the Shrewsbury Festival.

As FolkEast regulars we were shocked by the scale of Shrewsbury Festival based at the very flat and featureless agricultural showground on the edge of the town. Perfect for camping you might think but the campsite is incredibly crowded compared to FolkEast. Over 6000 fans were anticipated; do FolkEast get half that number? I doubt it. A large number of fans and no outside performance areas mean you need some enormous marquees as well as several large ones. Large marquees mean that the music needs to be VERY LOUD to fill the space. This can be so loud that ear-defenders are needed (some might say even if you are outside the tent).
The largest of the tents, the "Bellstone", could probably seat about 4000 and the Pengwern could hold at least 1,500, the smallest, the Sabrina, maybe about 1,000. There was also a centrally located covered but open-sided dance tent with an excellent dance floor for Morris displays as well as a spacious dance / ceilidh tent located on the banks of the River Severn, a short walk from the main arena. This large choice of venues, all with lots of seats, mean there is no need to bring your own camping chair; there is almost always space to get in and sit down, although we did see one (unused) "Venue Full" sign, so maybe even the Bellstone fills up on occasions.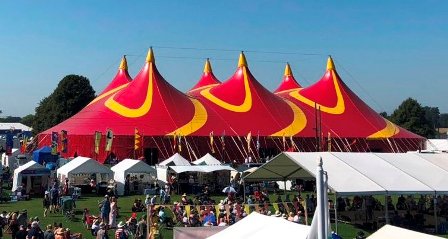 On Saturday night the highlight (?), or top of the bill anyway, was a celebration of 50 years of Jethro Tull, which may have been a folkrock band in the 70s but seem to have become a straight-forward rock band now. This appealed to few and the huge Bellstone tent was only about 25% full. Sunday night was better; not all folk music sounds good at full volume but a band new to me, Jiggy, "Irish / world rhythms and cutting-edge dance grooves", managed to get the levels about right as did the AKA Trio (although I didn't see the latter myself).

One of the reasons we decided to try out Shrewsbury was to see the John Spiers Ceilidh Band, featuring Will Pound on harmonica and also because there were bands we knew we liked and had seen at FolkEast such as Granny's Attic, Edgelarks and Faustus and also looked forward to seeing people like Eddi Reader who we had missed. We enjoyed them all and Eddi Reader was in great form. The Edgelarks, despite some fine steel guitar were a bit middle of the road with lots of self-penned songs and tunes and also too loud for our taste. We wondered whether part of the problem was actually a technical issue of a poor balance of sound to space. I remember being in Grassington a few years ago for their festival and seeing the Peatbog Fairies in a village hall and being delighted to find that it was possible to get the full Peatbog effect in a medium sized village hall. On the other hand maybe I've become an old fogey rather than an "old Folkie".
FolkEast never has these problems because of the advantage of the outdoor Sunset Stage but instead you do have to contend with the weather and if it's wet then the indoor spaces can get very full with standing room only, not always undercover. One of the delights of FolkEast is the undulating and park-like nature of the site; such a contrast with Shrewsbury. We didn't manage to get everywhere at Shrewsbury but there is no magical mystery about the site. At FolkEast there is always somewhere else or somewhere new to explore. Wending your way through the lightshow in the woods leading to the Soapbox stage is a particular delight, especially when you are rewarded with the treat of an undiscovered talent; be they a 16 year old novice or an experienced pub band or session musician or perhaps an eccentric entertainer in a pink wig with a ukulele.

If you don't fancy that there is always something going on in the Church; perhaps a solo spot by someone you missed on a main stage or something from South America resembling a cross between break-dancing, kendo and tai-chi. John Spiers may be at hand to provide gardening tips in his "Gardeners Question" time slot or you could visit the Electric Kinodrome if you just want to sit quietly and watch and learn something unexpected about East Anglia or the folk world of days gone by.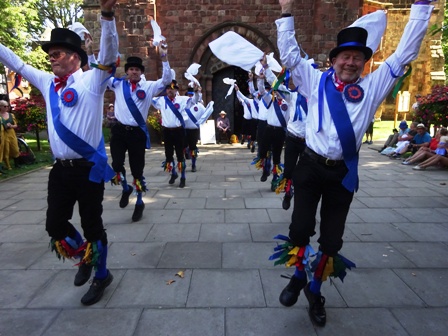 Great Western in Shrewsbury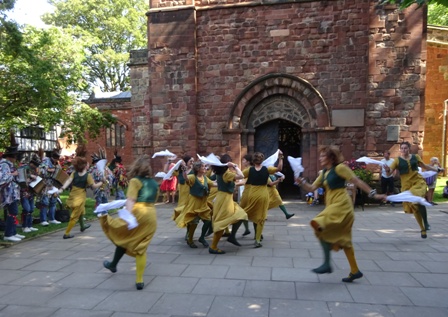 Will we go back to Shrewsbury? Maybe, but in general at Shrewsbury we felt more like folk industry consumers rather than participants in a festival we could tailor to our own varied interests. One of the advantages of Shrewsbury is its location near the town centre which means that with the aid of a good shuttle bus service it can incorporate festival events into the town setting. So, rather like Ely, the Morris sides parade through town and perform in market squares and churches. There are also several free festival events and sessions in town centre pubs. However, although we saw a few friends and faces from East Anglia we missed the "Social Knitworks" of FolkEast where we endlessly bump into friends we haven't seen for a few months. When do tickets for FolkEast 2020 go on sale?

Dave Evans and Gill Brett
Martha Roden's Tuppeny Dish