Folk Orchestra Workshop with Jo Freya, November 12 (Luke's Church Centre, Aylsham Rd, Norwich)
Review by Simon Haines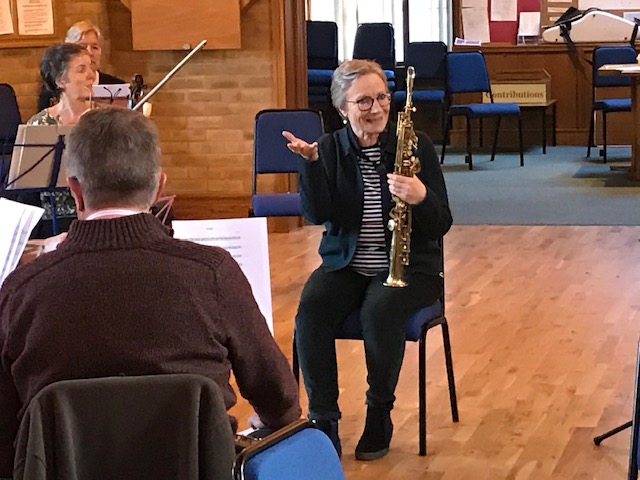 This workshop was the result of a second collaboration between Mardles.org and 'Vintage Squeeze', a group of musicians based in Norwich. The theme of the day was playing together as an orchestra of folk musicians. The workshop was led by Jo Freya - a top-ranking multi-instrumentalist and experienced tutor. For many years Jo has been a member of The Old Swan Band and Blowzabella. She is now also a member of Narthen and Moirai. Find out more about Jo HERE
Jo provided the notation for four tunes in advance of the workshop – these included melodies, chords and occasionally harmonies. Typical folk keys were chosen: D, C (Am) All instruments were welcome and on the day there were melodeons, violins, recorders, flutes, concertinas, and bagpipes. Jo herself demonstrated the tunes on her soprano saxophone. She emphasised right at the beginning that ideas for arrangements from participants would be welcome and indeed expected. As the day progressed, people grew in confidence and more and more ideas were suggested.
Review by Simon Haines
The Zoë Wren Trio - Colchester Arts Centre Monday 31 October
We booked Zoë Wren solo for Hadleigh Folk and Acoustic Music Nights two or three years ago. It was clear immediately that here was a consummate musician, songwriter and performer with a repertoire of great songs - mostly her own, but with a sprinkling of some from the tradition and a few from other songwriters she admires. Earlier this year, Zoë came to the club again, this time with Jasmine Watkiss as the duo Roswell. The repertoire was different, but again the musicianship from Zoë and Jasmine was superb. At Colchester Arts Centre on Halloween night, Zoë was accompanied by Jonny Wickham on double bass and David Delarre on mandolin & guitar. For the majority of their set, they played as a trio but from time to time Zoë performed solo. This varied pattern worked very well, her accompanists never overshadowing Zoë's voice or her delicate, tasteful guitar playing. On this occasion, Colchester Arts Centre, which is still recovering from pandemic-related audience fall-off, was full. Many of the audience might not have heard of Zoë, but it didn't take long for them to warm to her friendly, light-hearted introductions or to appreciate what folk club organiser Elaine Barker described as "her amazing talent".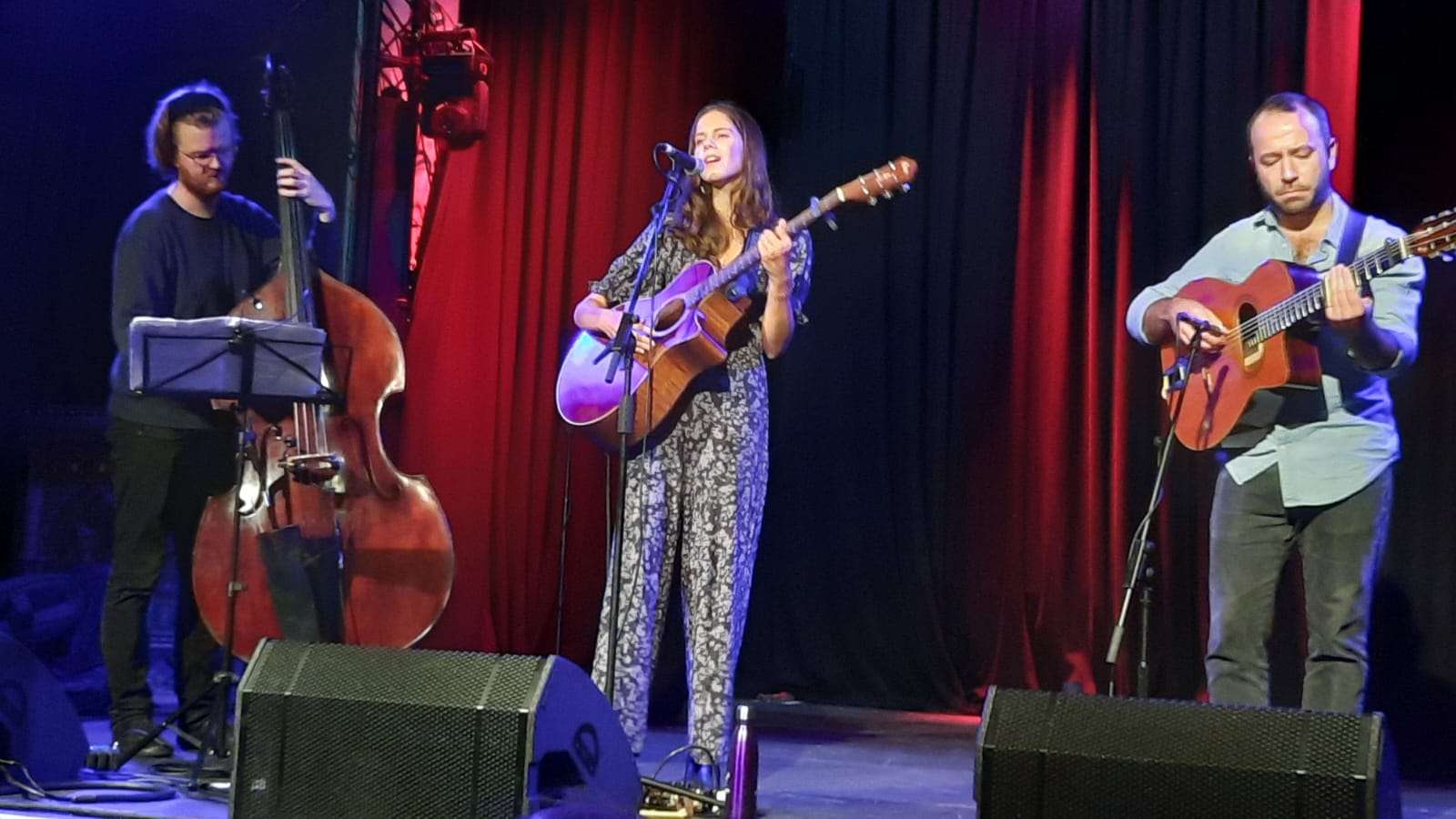 Halesworth Day of Dance 2022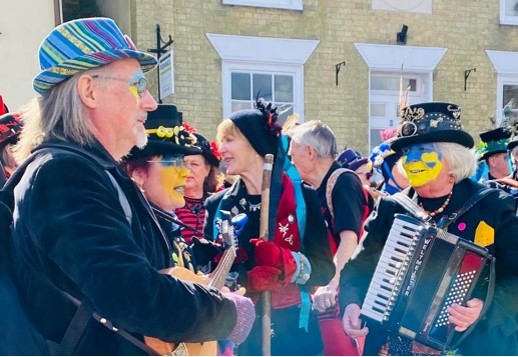 The spring sun shone over Halesworth on Saturday morning 2nd April as around 500 dancers and musicians converged in the Market Place for the 6th Halesworth Day of Dance. Colourfully clad teams were greeted by Chair of Council Rosemary Lewis before dancing together en masse in a joyful eruption of sound, movement, and colour. The hosts, Oxblood Molly, then led a procession around the town which culminated in a spectacular Guard of Honour up through the Thoroughfare.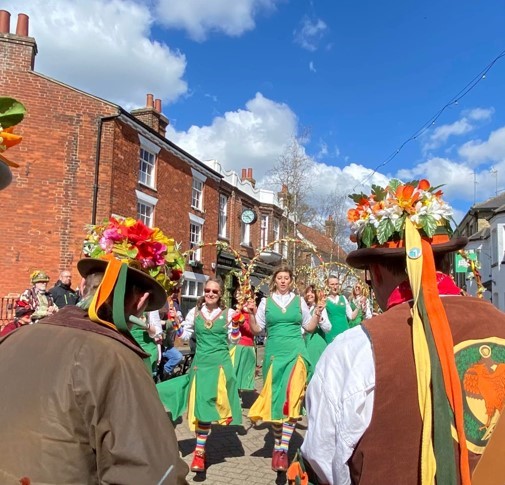 Music and dancing were everywhere throughout the day. Onlookers were treated to fabulous performances of Morris and Molly dancing by teams from all over East Anglia. An exotic air was added with dancing by the local Eastern Belly Dancing group, whilst a 40 strong team of majorettes from Eitorf (Halesworth's German Twin town) added their own magic to the proceedings. Ukulele players also had a chance to 'strut their stuff' with a mass Busking session in the Market Square.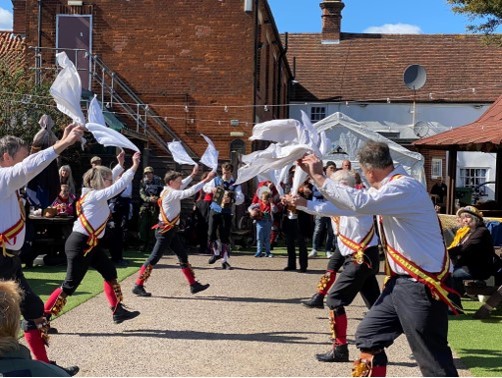 An uplifting sense of happiness pervaded the town. One onlooker commented "This is so lovely! It does your spirit good. I've been smiling all day!".
The day is rapidly becoming an important event in the Halesworth calendar and this year raised over £1300 for Motor Neurone Disease Association. The next Halesworth Day of Dance will take place on 1st April 2023.
Many people have contributed their own photos to the Halesworth Day of Dance Facebook page HERE, among which photographer sasastro has added an album with a link to flickr below
https://www.flickr.com/photos/sasastro/sets/72177720297847974/

Thank you to Linda Watterson for this article and pictures.

Submitted by Sarah Sennett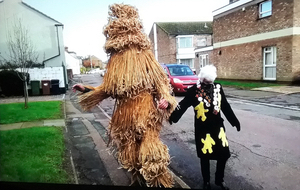 The Bear makes its way down Gracious Street (photo by Christine Kell)How to run a festival that is based around a central figure dressed in five stone of straw that usually depends upon crowding several thousand people into a small Fenland town? That was the dilemma facing the Straw Bear organisers as it became clear that live events were not going to be possible in January. Over the summer, we began an 8-month planning process that became Straw Bear Online.
Two things we agreed very early on were that we would try to run our virtual festival in a way that followed the format of the live event as closely as we could, and that we would put a Bear on the streets of Whittlesey in some form.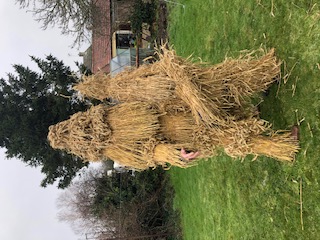 The two Bears grandfather & grandson Paul Cornell & Noah Randall (photo by Megan Randall)The making of the Bear was one of the first things to be finished, mainly by Brian and Christine Kell and Ady Bull, using Brian's garage as a workshop. Paul Cornell had already offered to be the "isolation Bear", and a lot of planning was put into a route, risk assessment and whether a small number of the Straw Bearers would be able serve as a distanced audience along the way. However, as December came around and with Tier 4 and lockdown looming, three generations of the Cornell/Randall family pulled out all the stops to take the Bear out on Christmas Eve and film some poignant footage that had several of our YouTube viewers in tears as it formed the finale of the "Processions through the ages" video
We were also keen to include some exclusive content that people coming to visit for the weekend might not ordinarily see. "How to build a Bear" and interviews with some of the many people who have driven the Bear over the years were well received, without taking away the mystery of the festival's central figure. As Brian said: "The driver is not the beast. All the driver does is give the Bear mobility. It's an entity all of its own."
We were also able to bring people together in real time with a selection of Zoom events to choose from. Over 400 people enjoyed two live music sessions led by members of White Rose Morris and the Straw Bearers, who are often found in the Letter B until the small hours of Sunday morning, an at-home ceilidh with top musicians Doug Eunson and Sarah Matthews, with caller Martyn Harvey, and a talk on "40 years of straw and string".
Putting on Straw Bear Online was a huge amount of hard work, alongside our everyday responsibilities of work and home schooling. I should particularly mention Rebecca Kell at this point, who built an entirely new website from scratch and did almost all of the video editing.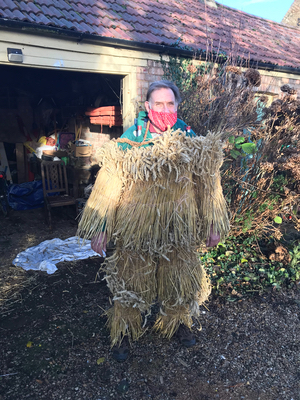 Paul Cornell was the Isolation Bear: (photo by Ady Bull)
It was a trip down memory lane for many, and there were lots of fond reminiscences in the YouTube chat as they recalled past visits and spotted friends now departed in the archive footage. We were delighted to have it re-affirmed that Straw Bear means so much to so many people. It wasn't quite like being there in person, but it was the most festival-like experience we could put on while staying at home – and it was definitely the warmest Straw Bear ever! And we are all very much looking forward to the time – whenever that may be – that the Straw Bear can once again dance through the streets of Whittlesea.
Call out box:
Straw Bear Online took place on 15-17 January 2021. Most of the videos are still online, and can be accessed via www.strawbear.org.uk